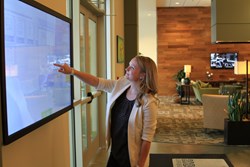 To ensure the success of a virtual property and resident interaction system implementation, you should be aware of five key elements found in the best offerings.
Denver, CO (PRWEB) October 23, 2013
Engrain (http://www.engrain.com), the leader in touch screen property tour and resident messaging systems, today announced the availability of a whitepaper outlining the key features that prospective purchasers should look for in a virtual property tour and resident interaction (VTRI) system.
"Our roots in commercial real estate run deep, so we have a genuine interest in helping property owners and sales/leasing teams succeed," said Audrey Bolema, marketing and business development director at Engrain. "Of course, we feel our virtual tour and resident interaction system is the industry leader. But regardless, real estate pros need to be sure that the 'essential elements' in our white paper can be found in the VTRI system they select."
Engrain's TouchTour™ system runs on large (42" to 80") multi-touch panels with a user interface and branding that is custom-crafted for each property. They are used by prospective residents and sales/leasing agents to provide in-depth virtual property tours, local area information and other services. When not in use by prospective or current residents, the screens display community notifications and other messaging.
The new white paper, "5 Essential Elements of a Virtual Property Tour and Resident Interaction System," can be downloaded from the Engrain website or viewed below.
___________________________________________________________________________
5 Essential Elements of a Virtual Tour and Resident Interaction System
No technology in the last decade has had as big an impact on the property sales/leasing industry as the virtual tour and resident interaction (VTRI) system has. Now moving from its "infancy" to a robust and healthy "adolescence," touch screen digital concierge-like systems do everything from providing unit and community details to prospects, to letting residents sign for package deliveries, view Instagram photos, send text messages and more. And their potential for additional functionality is unlimited.
There are two things you can expect of a product or service that is revolutionizing an industry. One is that there will be a fast-growing list of providers whose offerings fall along a spectrum of Exceptional to Unusable. The second is that there will be an investment cost associated with acquiring an asset that can dramatically increase lease-up velocity and improve resident retention. This makes it critical that everyone involved – from property owners to sales/leasing agents – perform their "due diligence" and ultimately select the right system.
To ensure the success of a VTRI system implementation, you should be aware of five key elements found in the best offerings.
Handcrafted Interface
Few decisions are more personal than where someone will make their home. While cost and availability are important considerations in reaching that decision, prospective residents also want to be in a community that is unique and genuine.
Nothing says "shallow" like an interface that is clearly an unimaginative variation of the vendor's "standard template." Working with a provider that is both tech savvy and skilled at graphic design will pay off in a more memorable experience for prospects and faster lease-up.
Easy-to-Use Content Management System
The information displayed in a VTRI system is only as valuable as it is current. And without a powerful, intuitive content management system, keeping information fresh and interesting is very difficult and time-consuming. A CMS is especially important if your company owns multiple properties. Having a tool that allows you to manage content portfolio-wide can make a tremendous difference in productivity. Ideally, the CMS should have security functionality that allows you to assign user roles.
Property owners and leasing teams should ask specific questions about the CMS when participating in a system demonstration. If the vendor says they don't have one or that they will handle content updates for you, that should be a red flag.
"Closed-loop" Environment
In our constantly-connected world, people expect that the product information they are interested in will effectively "follow" them, regardless of what device they are using. Your VTRI system should reinforce what a prospect has seen on the touch screen panel at your property by making the same information available on your website, on their mobile device, on their tablet, etc. As much as possible, the syncing of content should be handled through integration of the system components.
Property Analytics Capability
A good VTRI system should not only deliver useful information to prospects, it should collect and display actionable data to property owners and sales/leasing teams as well.
The system should provide real-time figures on guest card conversion rates, floor plan popularity, search filter usage and more. These kinds of statistics can help you assess property performance and improve the health of your entire portfolio.
Strong Reputation
Another company's opinion of a VTRI system should not take the place of your own thorough evaluation. However, knowing that a vendor has high profile clients on its customer list – and that those clients are happy with the product – can be very reassuring.
It's reasonable to assume that those organizations evaluated a number of systems before selecting one. If your research confirms that a particular VTRI system meets your functionality requirements and quality standards, you can make the purchase with confidence.
The virtual tour and resident interaction system that you select and implement makes a very public statement about your property and your organization. Be sure it speaks of your commitment to quality.
About Engrain
Engrain is a leading provider of immersive touch screen technology and award-winning digital branding and design services for the luxury real estate market. Its TouchTour™ system is used at some of the most prestigious properties in the country. Founded in 1995 and based in Denver, the company works with clients throughout the U.S.
For more information, please contact Audrey Bolema, 303-903-3863 or audrey(at)engrain(dot)com.