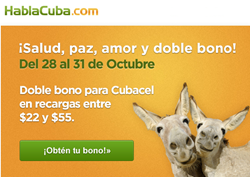 HablaCuba.com announces a Double Bonus Promotion starting October 28. All mobile recharges to Cubacel in Cuba receive 100% Bonus to the credit amount sent.
Atlanta, Georgia (PRWEB) October 24, 2013
For all Cubans living outside their mother country, HablaCuba.com launches a most awaited double recharge promotion under the motto "Salud, paz, amor y doble bono!" The offer is available between October 28 - 31 and awards double recharge credit for all international top ups to Cubacel mobiles.
The promotion "Salud, paz, amor y doble bono!" brings together three important life sources, highly praised in the Cuban culture: health, peace and love. The offer brings forth the famous double bonus ("doble bono") and is active for 4 days starting October 28.
As experienced customers put it, the well-known "doble bono Cubacel" or "doble recarga cubacel" promotions are a great chance to send extra credit while recharging friends' and relatives' Cubacel mobiles. Anyone can recharge a mobile in Cuba with 40 CUC and pay only $22, or send 60 CUC while paying only $33.
The promotion addresses all those holding a free account on HablaCuba.com and applies on Cubacel top ups of minimum $22 and of maximum $55. This October promotion "Salud, paz, amor y doble bono!" is a great way to save money on international recharges and send extra phone credit to relatives and friends in Cuba.
The campaign focuses its main message on Cubans' love and support for their friends and families regardless of their location. Therefore, the core message is: "Send double recharge to the island!" ("Envia doble recarga a la isla.")
The purchasing process on HablaCuba.com is as simple as it gets. Customers only need to select the country and the mobile operator, enter the mobile number they wish to recharge, and proceed to payment. The credit amount is sent to the desired mobile number and the transaction status can be checked any time in the online account.
HablaCuba.com guarantees 100% transaction security and satisfaction. All major payment methods are accepted: Visa, MasterCard, American Express, Discover and PayPal. The service offers an easy, fast, and reliable solution to all those traveling or living abroad who need to add credit to mobile phones in Cuba.
Keeping up with trends, HablaCuba.com includes a number of great features: easy steps to make an online mobile recharge or buy personal phone credit in less than 1 minute, a comprehensive Help Center, and 24/7 Customer Service available by phone, email, and chat in both English and Spanish.
About HablaCuba.com
HablaCuba.com is an interactive website designed by KeepCalling, a global telecommunications company registered in 2002 in USA. KeepCalling, the company behind HablaCuba.com, offers other telecom solutions apart from Mobile Recharge: prepaid credit, Virtual Number, Monthly Plans, WebFax, Web Call and Web SMS through various ethnic websites. Presently, KeepCalling provides its services to over 150,000 consumers and businesses, with a focus on customer satisfaction. In 2013, Inc Magazine listed KeepCalling as the 16th fastest growing company in the telecommunications industry.