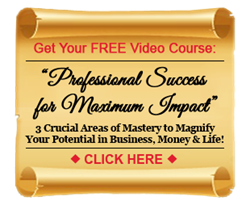 "If you own your own professional practice, make sure you smoothly run the business, rather than having IT run YOU."~ Dolly Garlo
Key West, Florida (PRWEB) October 30, 2013
Business Mastery for Professionals is the latest in the 5-part video series by Dolly Garlo. In this installment Garlo discusses the need of professionals to act as entrepreneurs as opposed to merely focusing on delivering their professional services.
This kind of bigger picture outlook will secure a more competitive edge while providing them with the necessary business management skills that are required in this fast paced economic climate.
In the video Garlo explains, "You may stuck dealing with things like sales and marketing, budgets and accounting, staff management, patient or client satisfaction, and if you have your own practice, you want to make sure you smoothly run the business, rather than having IT run YOU."
In the video Business Mastery is described as the pinnacle of success for professionals. That level of mastery eludes most, primarily because it involves so many moving parts, including: finding areas that interest you, filling a need in the marketplace, then getting leverage through the right systems and team members, comfortably becoming more visible to attract business, and easily collecting fees for services you truly enjoy providing … all while maintaining a sense of balance and enjoying the ride.
To help viewers along, Garlo is offering a free guide entitled "7 Well-Kept Secrets to Grow Your Business with Professional Strategies that Work!" which can be accessed on the website, along with the video series.
Dolly Garlo, RN, JD, PCC-BCC, President of Thrive!!, founded the coaching, consulting and training company to help other professional women build solid business foundations for successful delivery of innovative services, create successful and profitable businesses, design fulfilling business-exit or career change and personal lifestyle transformations, and use their considerable skills and resources to make local or even global contributions. Her website is http://www.allthrive.com.
Working exclusively with compassionate business minded professionals, Dolly Garlo is on a continuing mission to change the way health care services are delivered in this country, particularly focused on the integrative medicine and complementary health care arenas. It has been her passion since graduating from nursing school 35 years ago and it's what drives her work to this day as a former health care attorney turned board certified professional coach and legacy development planner, with additional certification in financial coaching and retirement life planning.
She earned her BSN from the University of Michigan, and her JD from the University of Utah. She practiced as a critical care registered nurse in Medical and Shock/Trauma ICU, followed by 16 years practicing civil and administrative law (building and running her own law firm advising professionals and health care businesses). She has been consulting with women professionals since 1997. An ardent environmental advocate, she developed a comprehensive legacy planning program as a result of experiences creating the Garlo Heritage Nature Preserve.