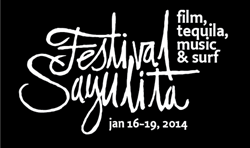 Sayulita provides a scenic, bohemian background perfect for this international festival.
Sayulita, Nayarit, Mexico (PRWEB) October 23, 2013
The first annual Festival Sayulita, presented by SayulitaBeach.com, is a unique gathering for all lovers of Mexico, film, tequila, food, music and surf to be held Jan 16-19th in the idyllic coastal town of Sayulita, Nayarit. Sayulita provides a scenic, bohemian background perfect for this international festival. Creative and provocative films will be shown in various venues throughout the town. Additional events include tequila and food pairings, master tequila tastings, beach-front film venues, private screenings and live music.
Once known only for its fishing business and scenic beaches, Sayulita now boasts a thriving community of local, Mexican restaurants and craftsman alongside trendsetting establishments. Surfing, paddle boarding, yoga, mountain biking and other outdoor activities helps make Sayulita an irresistible destination.
Festival Sayulita will highlight these many assets while spicing up the town with new and never-been-seen international films in the genres of action, short feature, documentary and animation. Tequila vendors will be offering tastings of locally made specialty spirits and sharing some of their knowledge on growing and processing methods.
Sayulitas La Casa de la Cultura will be the heart of the Mexican culture scene during the Festival and will feature a special installation of art and photos about the local culture. El Andalon, directed by Consuelo Alba and John Speyer, will clearly be one of the documentary highlights. This intriguing film drew the directors to Chiapas and to the man who, for 45 years, listens to indigenous people, heals them and preserves their culture in a small museum in his home. While his words are simple, his emotion and the visits that he makes to village members are compelling. The directors of this incredible film will be attending the Festival after conducting a visit to their protagonist in Chiapas and will give a live presentation about their new discoveries. Hugo Prado offers another take on Latin heritage in El Abuelo de Macondo. This short follows Virgilio Alvarez, a Cuban gentleman who is about to turn 105. Every day, he rises up to walk around the whole town of Baracoa and he says that he "still got a long path to live". Through his routines and his powerful spirit, one is able to see into the soul of another generation. A feature length film not to miss is Leonora Carrington: El Juego Surrealista, directed by Javier Martin-Dominguez. The film is a biographical account of the last living member of the surrealist group and follows her stories, and those of others, into nearly a century of art and creativity. Ms. Carrington died in 2011 at the age of 94. She spent the majority of her inspired life in Mexico City and is now recognized as one of the leading female artists of the 20th century.
Ticket sales are moving fast for Festival Sayulita. New film announcements are happening every week and there are some incredible surprises in store including locally made films, a local children's project and films from indigenous groups here in Mexico. This is an event not to miss. For complete details of the Festival, go to http://www.festivalsayulita.com. Sayulita is a one of a kind place which deserves a one of a kind site, please visit http://www.SayulitaBeach.com for an inspired view of Sayulita on the web.