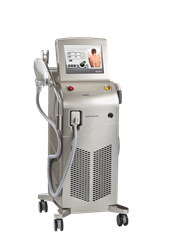 The Soprano ICE is a win-win for me and my patients.
Buffalo Grove, IL (PRWEB) October 22, 2013
Patients feel the difference. Operators love the difference. A breakthrough in comfort and speed for both patients and laser hair removal practitioners.
Alma® Lasers, a leading developer of medical aesthetic devices, takes laser hair removal to new – and virtually painless heights – with Soprano® ICE. This industry-shaping platform shakes up the hair removal industry incorporating multiple cooling mechanisms to maximize the patient's comfort during the treatment. Soprano ICE's sophisticated SpeedTM Technology delivers optimal results in half the time benefiting doctors' practices and patients' tight schedules.
The apex of hair removal devices, Soprano ICE builds on Alma's proven Super Hair Removal (SHR™) technology. Its cutting-edge Speed Technology is clinically proven to have the industry's highest coverage rate and gives operators the ability to treat at 10 hertz per second. This speed, coupled with a lightweight handpiece, effectively enhances results by eliminating the traditional lengthy hair removal treatments and reduces user fatigue. The Soprano ICE maintains SHR's clinical success record and record breaking speed of treatment signaling a radical new era in comfort. Patients feel the difference. Operators love the difference.
"The Soprano ICE is a win-win for me and my patients," boasts Dr. Ronald L. Teed of Cascade Medical Boutique, a cosmetic practice in the historic Oregon town of Hillsboro. "Its innovative combination of heating and cooling, light handpiece and optional applicator tips for hard-to-reach areas drive enhanced outcomes. I can confidently promise patients smoother results in less time with minimized pain. Patients who have had unsuccessful procedures using other technologies and had given up on a positive outcome, found Soprano ICE finally solved their hair removal needs."
"Alma raises the bar again with a laser hair removal system that cuts treatment time in half with our exclusive Speed Technology," adds Avi Farbstein, CEO, North America Operations, Alma Lasers. "Soprano ICE is a win-win for both patients and operators, who both feel the difference. Cooling mechanisms ensure patient comfort and the lightweight handpiece guarantees a comfortable operator experience without cumbersome consumables."
Soprano ICE includes an added patient benefit: the exclusive ClearTiteTM treatment. ClearTite's deep dermal heating provides patients with temporary relief of minor muscle aches and pains.
Soprano ICE boosts the hair removal industry to new heights with its innovative technology, speedy results, and ease of use. To learn more about the Soprano ICE, please visit http://www.almalasers.com/Ice.
About Soprano ICE
Soprano ICE is an 810 nm diode laser for virtually painless permanent hair removal. Soprano ICE is FDA cleared for the treatment of skin types I-VI and tanned skin and it is safe to treat patients year round. Its Super Hair Removal (SHR) technology is clinically proven to have the industry's highest coverage rate. The gradual heating SHR technique creates a comfortable treatment experience without analgesics. And ClearTite body and face modules for temporary relief of muscle aches and pains and deep dermal heating offer additional revenue streams. Other benefits include:

Intuitive and user friendly 12" color touch screen with pre-set parameters
Cooler treatment
Reduced applicator weight reduces operator fatigue
No consumables.
The Soprano ICE joins the Soprano Family laser series which includes Soprano XL and Soprano XLi.
About Alma Lasers
Alma Lasers, Inc. is a provider of laser, light-based and radiofrequency devices for aesthetic and medical applications. Alma Lasers delivers innovative multi-technology/multi-application systems designed to meet the unique needs of today's practitioners. Alma's modular, cost-effective; high-performance systems enable practitioners to confidently offer state-of-the-art aesthetic treatments to their patients. Practitioners use Alma Lasers' products for non-invasive aesthetic procedures such as hair removal, acne treatment, wrinkle reduction, fractionated ablative and non-ablative skin resurfacing, vascular and pigmented lesions and leg vein treatments. For more information, visit http://www.almalasers.com.