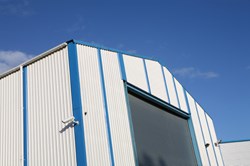 Delray Beach, Florida (PRWEB) October 23, 2013
As a GSA approved vendor for the Federal Government, Freedom Steel has been a part of countless projects across the United States for various usages funded by American tax dollars. "This is a certification that took 18 months to obtain so we take it very seriously when we are offered to take on a job for a government agency," says Freedom Steel's CEO and founder Sean Hackner. "Several years ago we facilitated a turnkey project for the US Department of Agriculture (USDA) in Brooksville, Florida. That project was one of many that actually helped us obtain our GSA number." As the Federal Government is shutting down, including parts of the USDA, Freedom Steel is finishing up the latest project for this branch near Miami, FL.
The Animal and Plant Health Inspection Service (APHIS) is an agency of the United States Department of Agriculture (USDA) responsible for protecting animal health, animal welfare, and plant health. APHIS is the lead agency for collaboration with other agencies to protect U.S. agriculture from invasive pests and diseases. APHIS is the National Plant Protection Authority for the U.S. government, and the agency's head of veterinary services is Chief Veterinary Officer of the United States.
The aforementioned project in Dade County, FL consists of two small metal buildings: 20x20x13 and 20x40x13. Freedom Steel provided the prefabricated structures complete with all of the sheeting, doors, bracings, hardware and engineered drawings. Through an association with WJM Resources (led by William Mathis), Freedom Steel once again arranged this as a turnkey project for the USDA. Mr. Hackner goes on: "We are especially proud of this venture because not only do very few steel building companies have the capability to provide a product that meets Dade County's stringent standards, but even fewer have the staff to gain the confidence of governmental agencies like the USDA and APHIS. However, this is the same service we give to all of our customers, American or otherwise."
The buildings can be viewed at 13601 Old Cutler Road in Coral Gables, Florida.
ABOUT FREEDOM STEEL
Freedom Steel's buildings are shipped factory direct from any one of their 18 factories across the continental Unites States. Freedom Steel also provides buildings for anywhere in the world, including a heavy concentration in the Caribbean and Canada; as well as projects in Central and South Americas, Africa and Europe. Freedom Steel's factories have the ability to construct prefabricated buildings of any size with clear-span options as wide as 250'. Along with all of the government funded projects, Freedom Steel ships hundreds of buildings per year to customers needing barns, garages, riding arenas, gymnasiums, churches, workshops, residences and more. Stamped, certified and state sealed drawings are included for every project. Freedom Steel buildings come standard with such "upgrades" as PBR roof and wall panels, pre-welded clips and pre-punched door openings. They also offer an array of accessories for the consumer including garage and entry doors, windows, insulation, vents, skylights and canopies. Freedom Steel's international headquarters is located in Delray Beach, FL, where any and all (potential) customers are welcome to visit anytime. For more information, please contact: Jeff Garfield at 1-800-630-2846 or visit online at http://www.freedomsteel.com .