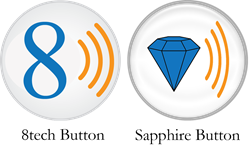 I couldn't believe how easy it was to set up an 8tech account and begin increasing conversions. There is no other service that will improve website performance like 8tech and best of all it's FREE. - Max Woods, Marketing Director, Barracuda Paddles, Inc.
Jacksonville, FL (PRWEB) October 24, 2013
Eight Technologies built the 8tech platform (http://www.8globaltech.com) as a way to help website owners improve a websites performance. In using the 8tech platform, website owners mirror audio files to a websites text content. This has several important benefits for the website owner which include:
1) Using the 8tech analytics from the audio files allows the website owner to understand, at a granular level, what content on a website is engaging to website visitors.
2) Because of the increased engagement and interaction by the 8tech platform, a website will improve its goals.
3) The audio files are linked to the 8tech servers which improves search results for a website.
4) Mobile website visitors can listen to content as opposed to reading it off a small screen which is tedious.
See the article in SearchEngineJournal.com about using the 8tech platform to improve website performance at http://www.searchenginejournal.com/using-audio-analytics-to-better-understand-website-visitor-engagement/66040/.
Using the principles of the 8tech content delivery and management system, Eight Technologies launched the Sapphire Advertising platform (http://sapphire.8globaltech.com). Sapphire Advertising is a website where publishers and advertisers can:
1) Use the 8tech ad exchange to make decisions about advertising campaigns
2) Advertisers can build digital ads with the Sapphire platform
3) Advertisers and Publishers can find detailed analytics about an advertising campaign or advertisements published on a website.
A Sapphire Advertisement is a digital ad which uses the Sapphire button to add audio information to digital display or text ads. By tagging the audio file to the digital advertisement, advertisers can provide a targeted audience with information about a website, company, product or service. Because the internet user can hear information about the website, company, product or service before clicking on the ad link, the internet user can make an informed decision about whether to click on the ad link thus decreasing unwanted clicks on the ad and improving the conversion rate. The Sapphire Advertising Platform is a must for any advertiser looking to place display ads targeted to mobile internet users as space is at a premium on the smaller screen and getting information across using text is difficult.
SpeakWiz (http://www.speakwiz.com) is Eight Technologies search engine designed for the mobile user. SpeakWiz uses the 8tech platform to provide audio information about a webpage link when it is retrieved during a search query. A website owner can use the Search Description Files (SDF) (http://sdf.8globaltech.com) website to set up audio descriptions for webpages which are tagged to the meta data of a webpage. SpeakWiz has designed its webcrawler to index the SDF meta data so a webpage will have an audio description of the webpage available to the internet search user. Because text descriptions on a mobile screen are difficult to read for a webpage, the SDF platform allows the mobile internet user to get audio information about the webpage before clicking the webpage link.
As Eight Technologies has designed all of these platforms to work together and provide information related to engaging content from a website, advertisement and search results; Eight Technologies has not only been able to make SpeakWiz a search engine that allows mobile internet users to get content easier about a webpage before clicking the webpage link but also provide all internet users with content that is more accurate to a search query with enhanced algorithms. Visit SpeakWiz today and try the fastest growing mobile search platform on the internet.
About Eight Technologies - Eight Technologies is a technology company focused on developing innovative platforms for the mobile internet market. 8tech continues to bring cutting edge technologies to the internet for website owners to get the most out of a website, advertising campaign or search engine results.