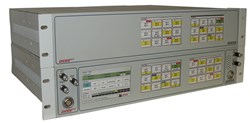 The ability of the Quintron team to design and produce 3 new user stations and introduce several new software features in less than 6 months is a tremendous tribute to the Quintron technical staff and the design maturity of the DICES VoIP product line.
Santa Maria, CA (PRWEB) October 22, 2013
Quintron Systems, Inc. (quintron.com), the recognized leader in interoperable Enterprise-Class Systems for Security Command, Control & Communications, is pleased to announce the successful conclusion of the Factory Acceptance Test for the first DICES VoIP system for United Launch Alliance (ULA). This Test concluded October 10th and sets the stage for actual site installation by Quintron technicians during Oct-Nov at the Delta IV Remote Launch Control Center at Vandenberg AFB in California. This system will allow parallel testing with other VAFB range assets and to ensure final active mission support success for upcoming critical launches.
The Delta IV system includes 67 of the new 2RU touch screen user station, with 3 configured with the optional Expansion Panel for display/access of up to 60 active voice keys. In addition, 6 more user stations will be the Thin Client type with separate desktop touch screen display, also supporting up to 60 active voice keys.
"We are extremely pleased with the successful completion of the Factory Acceptance Test," said David Wilhite, president and chief operating officer at Quintron. "This is a major milestone for any new system development like the contract with ULA. Also, the ability of the Quintron team to not only design and produce three completely new user stations, but also to introduce several major new software features in less than six months is a tremendous tribute to not only the Quintron technical staff, but also the design maturity of the DICES VoIP product line. I don't believe any other product or company could have accomplished so much in so little time to provide a true Range-class VoIP solution."
The second of four planned DICES VoIP systems for ULA will be installed in the Dec-Jan timeframe in support of Atlas V launches, also from VAFB. This system will be considerably larger, supporting 144 of the 2RU touch screen stations with 6 Expansion Panel additions along with 45 of the Thin Client stations for a grand total of 189 operating positions.
The other two launch centers, also Delta IV and Atlas V are at Cape Canaveral Air Station (CCAS) and will be installed in a marathon effort next May-Jun during the only workable open schedule dates for these very busy launch centers. These two systems will comprise another 244 operator positions with similar mix overall as VAFB sites. Quintron personnel will provide major site installation at all four sites.
For more information about Quintron solutions and services call 805.928.4343 or visit quintron.com.
About Quintron
For over 43 years, Quintron has provided high technology and cost effective solutions worldwide to government and industry in support of mission critical communications and security requirements for command and control applications. No other company offers the depth of expertise found at Quintron in fault tolerant, interoperable communications, and security systems. In addition to providing advanced products and systems, Quintron's professional technical services capability provides a superior level of customer satisfaction. Quintron's engineering services provide off-the-shelf or customized engineering solutions to solve the toughest of challenges facing customers. Visit quintron.com or call 805.928.4343 for more information.
# # #
The Quintron Logo is a registered trademark of Quintron Systems, Inc.
All other trademarks in this release are the property of their respective owners.