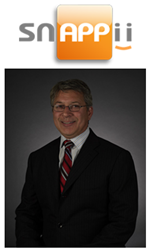 I joined Snappii because I believe [the] vision of a next generation mobile app platform designed to accelerate the delivery of enterprise grade apps is a unique model that has yet to reach its full potential."
Durham, NH (PRWEB) October 30, 2013
Snappii has appointed John P. Murgo to Chief Executive Office as the company positions itself for rapid growth in the mobile enterprise application platform (MEAP) and mobile forms space.
"John Murgo is a tremendous asset to Snappii, and we are confident that his experience will help lead the company through this exciting time of growth and expansion," said Alex Bakman, Founder and Executive Chairman of Snappii. "His knowledge and expertise in understanding infrastructure software, enterprise software, and related technology-enabled services will ensure our continued success well into the future."
Prior to Snappii, Murgo served as member of the company's advisory board. His previous roles include Executive Vice President of Acronis International GmbH, President and COO of Reversing Labs, Inc. and COO and CFO of Virtify. Murgo is an active board member for several companies, and plans to continue that work.
"I joined Snappii because I believe that Alex's vision of a next generation mobile app platform designed to accelerate the delivery of enterprise grade apps is a unique model that has yet to reach its full potential," said Murgo. "Snappii is a unique and exciting company in an expansion phase and I am looking forward to accelerating its growth as we continue to expand our market and work with our customers and partner network. "
The Snappii® platform is an open, cloud-based mobile app development framework that enables programmers and non-programmers alike to design, configure, integrate, publish, manage and evolve enterprise-grade mobile business apps in days versus months. Using Snappii flexible Visual Drag and Drop Editor, users can create mobile apps for all major device platforms including iOS, Android, and HTML5, for smartphones and tablets.
When compared to other mobile Backend-as-a-Service (BaaS) products and MEAP solutions offered by Kony, Verivo, Appcelerator and Antenna, only Snappii delivers the depth, breadth, usability and speed required for the top enterprise mobile apps. Snappii offers a complete end-to-end solution that enables users to generate robust, enterprise-grade mobile apps and deploy and manage them in a fraction of time and cost.
About Snappii®
Snappii (http://www.Snappii.com) is the first cloud-based Enterprise Mobile Platform (MEAP) that enables the rapid development and implementation of enterprise-grade mobile apps in days, not months. The Snappii Mobile Platform differs from the traditional app development approach which produces hard-to-change apps that requires extensive programming resources and takes 6 to 8 months to implement a typical enterprise-grade app. Snappii comes with a growing list of configurable, ReadyApps that can be customized, extended and deployed almost immediately. Apps deployed on the Snappii Mobile Platform are robust, scalable, and securely and easily integrate into back-end systems. Business managers can now be assured of delivering on their mobile app strategy quickly and with far less resources. The end result is enhanced customer experience, increase revenues and/or significant reduction in operating costs. The Snappii platform, while sophisticated in its capabilities, can be used by programmers and non-programmers alike so that managers can fully leverage existing resources.