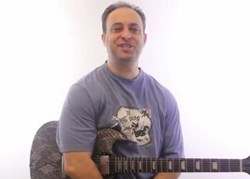 (PRWEB) October 22, 2013
In this guitar lesson, now available on YouTube.com, Claude Johnson teaches how to play "Fly Away" by Lenny Kravitz. TAB's for this lesson are available at GuitarControl.com.
Claude Johnson from GuitarControl.com teaches with some beginner level chords, A-C-G-D, and strumming to play Lenny Kravitz's Fly Away. Claude suggests that if you are a beginner and you don't already know these chords you should learn them first. "A great place is my Ultimate Beginner Guitar Course," says Johnson, available at GuitarControl.com. Claude says, "Learn the 7 basic chords because you are going to be able to play so many songs." Those chords are "E minor, G, C, D, E, A, and A minor," says Johnson. The song actually does not feature guitar during the verses, but just bass guitar and then the guitar comes in during the chorus. The arrangement that Claude has put together for this lesson features guitar during the verses as well as the chorus. During the verse, Claude explains to play one measure of each chord as half notes, so the A chord two down strokes (1-2 & 3-4), and then the same pattern for the remaining chords C-G & D, in other words you strum on one and three. For the Chorus, Claude explains to play a down stroke on the one, a down and up on two and three and to rest on four. So a quarter note for one, two eighth notes for three and two eighth notes for 3 (1-2&-3&) and then rest on four (a moment of silence), this sequence is repeated for each chord in the progression. Johnson also demonstrates how to use percussive muting to get a cool rhythm in your strum.
Four times Grammy winning writer, producer, and multi-instrumentalist, Lenny Kravitz, a native of New York City, is regarded as one of the preeminent rock musicians of our time. In his 20 year career he has sold over 38 million records world wide and has appeared in films such as Precious and The Hunger Games.
About GuitarControl.com
GuitarControl.com is the leader in modern guitar instruction. It's packed with recourses including articles, video lessons, and the best videos in the business for the beginner to the advanced guitar student taught by the best instructors out there. Weather you are into the blues, rock, jazz, metal, folk, or anything in between, they have you covered.