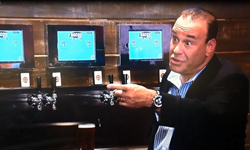 Taffer references the PourMyBeer team as, 'an unbelievable group of guys'.
Philadelphia, PA (PRWEB) October 23, 2013
Jon Taffer's larger than life persona is somewhat addictive and is the driving force behind one of Spike TV's highest rated shows, "Bar Rescue," now is in its third season. For those of you that are not familiar with the show, Jon Taffer and his consulting firm have helped turn around 800+ bars over the past 30 years. He's personally owned and run some of the most successful bars and nightclubs in the world. Once the bar to be rescued has been identified by his crew, they set up their cameras and the fun begins.
In the latest episode that aired this weekend titled, "Granpa got run over by his grandkids," Jon takes aim on a North Las Vegas bar named Kerry's Sports Pub. The owner is a retired businessman (Grandpa), with no experience in the bar or restaurant industry. He invested over $4 million dollars into this bar in the hopes of letting his daughter and grandkids run it and eventually own it. They have been losing roughly $5,000 per month for the past few months with no turnaround in sight. In steps, Taffer and his crew to make some dramatic changes. Among the many improvements is a 12 tap self-service beer wall built and installed by PourMyBeer.com. Taffer references the PourMyBeer team as, "an unbelievable group of guys" and comments on how easy it is to use and that they'll get 100% yield from every keg. The bar also went from 25-30 minute wait times for drinks to :25 – :30 Seconds once the Beer Wall was introduced. This technology is here to stay and every guest interviewed commented on how much they liked it too.
The way the self-serve beer system works is pretty simple. Once a guest shows their ID and opens a tab at the bar, or with the server, they have access to two beers on the wall. When they reach their limit the staff reloads their card right at the wall, if they are deemed fit to be re-served. Jon and the crew were very happy with the outcome of the beer wall and have made PourMyBeer their official partner on future episodes. It looks like we will be seeing and hearing quite a bit more about this unbelievable group of guys.
http://www.pourmybeer.com is an Innovative Tap Solutions Company. The company was formed in MD in 2008 and made the first commercial mobile self-serve beer tables in the US. It also sells and distributes fixed beer walls, mobile beer walls, dual temperature mobile wine walls, fixed draft tables and mobile draft self-serve tables. All mobile equipment is made in the USA. Contact sales(at)pourmybeer(dot)com or call 215-219-9203/443-691-2337.