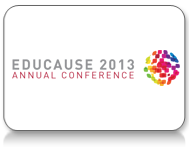 Anaheim, CA (PRWEB) October 24, 2013
Christie® was at the forefront of the EDUCAUSE annual conference, October 16-17 in Anaheim, California, exhibiting several premium performance visual display solutions for the higher education market. The engaging booth featured the new Christie Brio collaboration tool, a selection of Christie projectors from an extensive product line-up, and the multiple award winning Christie® MicroTiles®.
Christie Brio – Share More
A conference highlight was the Christie Brio. This presentation and collaboration solution enables multiple users to easily share video and audio content from their laptop or mobile device by connecting to the meeting room's video system through a Wi-Fi or Ethernet network. Presentations, video, and other media are displayed without wires, dongles, or special software applications so meeting participants go right to work without setup delays.
Christie Brio makes collaboration across multiple rooms, auditoriums and offices easy and immediate. It can connect to multiple worksites on a college campus or across several campuses. All Brio nodes added to a meeting will be able to see the same content and contribute to the meeting by sharing any presentation.
Christie Brio also takes full advantage of interactive whiteboard technology by turning it into a bi-directional collaboration tool. Any participant in a Brio meeting can use touch-enabled displays to add to or edit whiteboard contents, regardless of geographic location.
Christie DHD775-E with Wireless Connectivity Option
Ideal for classrooms, auditoriums and boardrooms, the Christie DHD775-E has native HD resolution and easily connects – wired or via wireless connectivity option – to today's computers. The Christie DWU775-E features an optional dual processor warp module for blending of multiple projectors to create a seamless display even on a flat surface.
Christie LW720 – The Brightest Single Lamp WXGA in the Market
Compact and affordable, The Christie LW720 delivers 7200 ANSI lumens and 2500:1 contrast ratio for superior brightness and deep, rich colors. Taking advantage of the broad suite of lenses ranging from 0.5:1 ultra short throw lens to long throw of up to 9.2:1 throw ratio, the Christie LW720 has one of the largest lens shift ranges on the market, which allows customers greater installation flexibility.
Christie FHD551-X Flat Panel with Ultra-Narrow Bezel
The Christie FHD551-X is on display. This full HD 55-inch indoor LCD flat panel features a bezel-to-bezel width of 5.5 mm, LED backlighting, high pixel density and a wide viewing angle, making it suitable for tiled displays in classrooms, meeting rooms, auditoriums or lobbies.
Christie MicroTiles – Ideal for Campus Lobbies, Auditoriums and Collaborative Spaces
Also on display is a 1-unit wide by 5-unit high Christie® MicroTiles® tower. Christie MicroTiles, with their much wider color palette compared to conventional LCD displays, deliver pure, saturated, accurate colors on a nearly seamless, stunning digital canvas. With their modular design, Christie MicroTiles are configurable into any shape or size, creating the perfect blend of architecture and technology. Several higher education facilities including the James B. Hunt Jr. Library at the North Carolina State University and Texas Tech University are enjoying the benefits of Christie MicroTiles video walls.
For more information on the complete line-up of projectors and displays systems, visit Christie at booth # 1260, 1262.
About Christie
Christie is a global visual technologies company and is a wholly-owned subsidiary of Ushio, Inc., Japan. Consistently setting the standards by being the first to market some of the world's most advanced projectors and complete system displays, Christie is recognized as one of the most visual technology companies in the world. From retail displays to Hollywood, mission critical command centers to classrooms and training simulators, Christie display solutions and projectors capture the attention of audiences around the world with dynamic and stunning images.
– 30 –
For more information, contact:
John Berkovich, Christie
(519) 741-3829
john(dot)berkovich(at)christiedigital(dot)com
Mario Almonte, Herman & Almonte Public Relations
(212) 616-1190, ext. 267
malmonte(at)Herman-Almontepr(dot)com
Follow Christie at:
Facebook.com/christiedigital
Twitter.com/christiedigital
"Christie" is a trademark of Christie Digital Systems USA, Inc., registered in the United States of America and certain other countries.
Christie® MicroTiles® is a registered trademark of Christie Digital Systems USA, Inc.