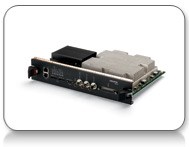 Combining our powerful IMB with Dolby Atmos, and adding our new Christie Vive Audio™ cinema sound system, enables exhibitors to create a movie experience that is second to none
Cypress, CA (PRWEB) October 25, 2013
Christie®, a global visual technology company, today announced that the Christie® IMB, an integrated media block solution that seamlessly converts and delivers feature-film and alternative content within a secure environment, now supports Dolby® Atmos™, a new audio solution that revolutionizes the experience of sound in entertainment.
Dolby Atmos unleashes the potential of sound in storytelling by giving filmmakers the creative freedom to easily place or move sounds anywhere in the movie theatre to create a life-like cinema sound experience. The announcement follows beta tests at several large cinema customers of Christie that confirmed the Christie IMB - Dolby Atmos synergy, including support for all of the latter's functionality, including playback.
"Combining our powerful IMB with Dolby Atmos, and adding our new Christie Vive Audio™ cinema sound system, enables exhibitors to create a movie experience that is second to none," said Craig Sholder, vice president, Entertainment solutions, Christie. "Christie continues to work closely with Dolby and other cinema partners to ensure reliable and flawless support for Dolby Atmos."
Christie boasts the largest installed base of DLP Cinema® projectors globally, many of them with Christie's own IMB, so the power of Dolby Atmos will now be available to many more cinema installations worldwide. Available today, the Christie IMB firmware update enables the change for all of Christie's 2K and 4K, DCI-compliant Solaria® Series 2 projectors having a Christie IMB.
"By integrating Dolby Atmos with third party solutions like Christie's IMB, we are making it easier than ever for exhibitors to embrace the future of cinema sound," said Doug Darrow, Senior Vice President, Cinema, Dolby Laboratories. "Dolby is the only company that has successfully deployed object-based audio in hundreds of cinemas worldwide, using sound to make movie audiences feel as if they are in the movie, not merely watching it," said Darrow.
Built into Christie projectors or easily inserted into previously purchased units, the Christie IMB utilizes industry standard, non-proprietary storage solutions, giving exhibitors the smoothest possible transition to HFR (high frame rate) and 3D projection standards. The Christie IMB provides an integrated solution from a single, trusted equipment supplier.
All Solaria Series 2 projectors are designed to integrate seamlessly with the Christie IMB and the Christie Previsto™ High Frame Rate (HFR) technology. Featuring complete cinema content support, as well as MPEG2 and H.264 support for pre-show advertising and alternative content, the design of Christie's IMB is grounded in a solid understanding of the projector's software, thermals, vibrations and internal power supply, ensuring the most reliable projection system on the market.
About Dolby Atmos
Dolby Laboratories is equipping the cinema world with its new Dolby Atmos technology. Dolby Atmos unleashes the potential of sound in storytelling by making it easy for filmmakers to place or move specific sounds anywhere in the movie theatre. The result is what moviegoers have described as a virtual reality of sound and the most engaging and lifelike cinema experience ever. Introduced in April 2012, Dolby Atmos has been embraced by all the major Hollywood studios, six Academy Award® winning directors, and 10 Academy Award winning sound mixers, among others. More than 300 Dolby Atmos screens have been installed or committed to in 30 countries with more than 85 exhibitor partners. More than 75 films from ten different countries—representing a broad range of genres, from action thrillers and animated features, to comedy and horror—have been or are scheduled to be released with Dolby Atmos sound since the first film debuted in June 2012. Dolby Atmos has received technical achievement awards from both the Hollywood Post Alliance and the Cinema Audio Society.
For the latest list of Dolby Atmos titles visit, dolby.com/atmosmovies. To learn more about Dolby Atmos, visit dolby.com/Atmos.
About Dolby Laboratories
Dolby Laboratories creates audio, video, and voice technologies that transform entertainment and communications in mobile devices, at the cinema, at home, and at work. For nearly 50 years, sight and sound experiences have become more vibrant, clear, and meaningful in Dolby. For more information please visit dolby.com.
About Christie®
Christie Digital Systems USA, Inc. is a global visual technologies company and is a wholly-owned subsidiary of Ushio Inc., Japan. Consistently setting the standards by being the first to market some of the world's most advanced projectors, complete system displays, and cinema audio solutions, Christie is recognized as one of the most innovative visual technology companies in the world. From retail displays to Hollywood, mission critical command centers to classrooms and training simulators, Christie display solutions and projectors capture the attention of audiences around the world with dynamic and stunning images, accompanied by awe-inspiring sound. Visit http://www.christiedigital.com.
For more information contact:
Dave Paolini
519-749-3127
David (dot) Paolini (at) christiedigital (dot) com
Mario Almonte
Herman & Almonte PR
(212) 616-1190, ext. 267
malmonte (at) herman-almontepr (dot) com
Follow Christie at:
Facebook.com/christiedigital
Twitter.com/christiedigital
"Christie" is a trademark of Christie Digital Systems USA, Inc., registered in the United States of America and certain other countries.
DLP Cinema® is a registered trademark of Texas Instruments.
Dolby and the double-D symbol are registered trademarks of Dolby Laboratories. Dolby Atmos is a trademark of Dolby Laboratories. Academy Award is the registered trademark of the Academy of Motion Picture Arts and Sciences.