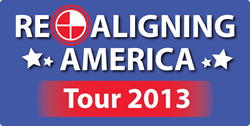 The Tour is about providing valuable maintenance training to help get American industry back on top.
Richmond, Virginia (PRWEB) October 24, 2013
The Realigning America Tour 2 follows VibrAlign's successful Realigning America Tour held this past May and June. The original Realigning America Tour featured events in 35 cities in 24 states around the United States. The upcoming Tour is being expanded beyond shaft alignment to include a session on coupling issues and innovations hosted by industry experts from Lovejoy.
The Realigning America Tour 2 will begin on November 12th in Chicago and end on December 10th in Raleigh. Tour events will take place in seven cities across the United States. Tour events are free and will feature educational seminars that directly address coupling and alignment issues and questions submitted by attendees.
VibrAlign originally created the Tour in its quest to Realign America. According to David Zdrojewski, VibrAlign CEO, "The Tour is about providing valuable maintenance training to help get American industry back on top. Expert training is how we can make our own small contribution."
"Lovejoy is excited to be part of these training sessions," said Elliot Wilson, Lovejoy Director of Product Education. "We were very pleased when VibrAlign invited us to participate and contribute our knowledge and expertise. This is just one aspect of our greater strategic partnership."
Those attending will also have a chance to submit their most pressing coupling and shaft alignment questions, which will be addressed in the seminars. Attendees can submit their question when they pre-register for the event.
About VibrAlign
VibrAlign is celebrating its 30th year, having started in 1983 as a vibration and alignment service organization and later became a distributor of equipment which, appropriately, equipped our team to better serve. VibrAlign is America's exclusive distributor of Fixturlaser® – the manufacturer of the new Fixturlaser NXA Pro. For thirty years now, VibrAlign has been growing across the country. Today the company operates out of local offices in every major region.
About Lovejoy
Since entering the power transmission marketplace with its signature jaw coupling in 1927, Lovejoy has grown into a globally recognized full-line supplier of premium flexible shaft coupling solutions. As a 4th generation US family-owned manufacturing company, Lovejoy takes particular pride in providing real-time local support for its loyal US customer base. Lovejoy products are engineered, supported, and manufactured out of Downers Grove, Illinois and South Haven, Michigan…. and widely available through the nation's finest power transmission distributors.