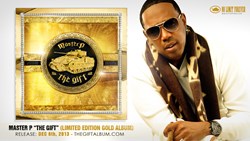 Master P and No Limit Records will be conducting toy drives with proceeds from the sales of THE GIFT.
Los Angeles,CA (PRWEB) October 22, 2013
Rapper and CEO of No Limit Records, Master P, had a fantastic run at the turn of the millennium, that will be forever remembered as one of the most influential periods in the history of rap music on both the business and musical forefront. Master P guided No Limit Records to an unheard of 75 Million records sold during this run, and has taken over the streets again with hit mixtapes such as "Al Capone" "Louie V Mob" and "Famous Again", gaining millions of new fans independently without any radio airplay. "As I get better with time, the man upstairs has blessed me and continues to give me the inspiration to share my talents or should I say my GIFT with my current and new fan base of music consumers of all ages and ethnic backgrounds across the world", said Master P. "With the holidays approaching and the economy being the way it is, many families will be unable to buy gifts for their loved ones and that's why I want to give everyone THE GIFT. Most importantly, I will be able to use my gift of music to help give back to underprivileged kids in many communities, and give them a chance to receive Christmas gifts that they would normally not be able to afford. It is my hope that this will encourage other artists to join me in this movement."
In addition, Master P and No Limit Records will be conducting toy drives with proceeds from the sales of THE GIFT. This release will be a limited edition collector's item for the real serious Master P No Limit Fan. Master P will personally sign each physical copy, and fans will have the ability to pre-order this monumental release.
The Album will contain a special gift from Master P to his loyal fans, a Golden Lottery Ticket worth 10,ooo in Cash with the purchase of a physical cd and or online purchase. Lottery Raffle will be December 23rd, 2013. In a time period where rap has been wrestling with the definition and importance of "realness", Master P will once again provide a clear understanding of what being REAL and INDEPENDENT is all about. No Limit VP of marketing J-Tweezy stated, " It amazes me that the concepts of realness and independence in hip hop doesn't seem to exist anymore. This record will surely be REALITY for the fans that have been yearning for the return of the REAL King of the Streets."
For More information go to http://www.thegiftrecord.com.
Contact J-Tweezy at (337) 378-2429 or email jtweezy941(at)gmail(dot)com