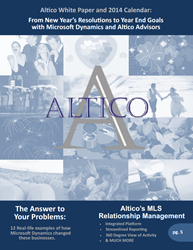 With 180 clients, it was difficult to pick just 12 success stories for this inaugural white paper.
Marlborough, MA (PRWEB) October 24, 2013
Altico Advisors, http://www.AlticoAdvisors.com, announced this week the release of a new white paper entitled "From New Year's Resolutions to Year End Close with Microsoft Dynamics and Altico Advisors." The white paper also serves as a 12-month 2014 calendar.
Each month is devoted to a specific Altico client case study and their success with Microsoft Dynamics CRM and GP for ERP. Industries highlighted within the white paper are: distribution, multiple listing services, professional services, manufacturing, software development, and finance.
The twelve case studies focus on challenges such as limited access to information, rapid growth of organizations, integration of Microsoft Dynamics CRM and Microsoft Dynamics GP, customization requirement, and the need for real-time, business critical data.
"With 180 clients, it was difficult to pick just 12 success stories for this inaugural white paper," explains Mike Kean, Altico Advisors President. "Each new client faces a unique set of challenges. We're proud to have a team with the experience and expertise to deliver the right solution in each and every case."
While many white papers are lengthy analyst reports or technology comparisons and evaluations, Altico Advisors chose to publish a white paper laser focused on concise success stories embellished with colorful graphics that make for an enjoyable reading experience.
About Altico Advisors
Headquartered in Massachusetts, Altico Advisors implements and supports business, financial, and customer management software solutions for mid-market enterprises, primarily throughout New England. Altico is a Microsoft Gold Partner specializing in Microsoft Dynamics GP (Great Plains) for accounting and ERP, Microsoft Dynamics CRM for sales, marketing and service automation, and Business Intelligence (BI) systems for manufacturing, distribution, software development and service companies. In addition, Altico provides a wide variety of integration, consulting and advisory services, such as outsourced financial services, business and IT strategy alignment, software selection, and business analytics. Altico Advisors also offers NetSuite solutions for ERP and CRM in the cloud. Connect with Altico Advisors on our Web site at http://www.AlticoAdvisors.com and on our blog at http://www.alticoadvisors.com/blog.aspx.