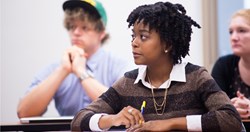 We are looking for those highly-energetic applicants who are coming to American University because they want to change the world
Washington, DC (PRWEB) October 23, 2013
Some high school students focus like a laser beam on what they want to achieve in college. For these ambitious students, time plays a factor in their calculus where earning a college degree is but the first stop on a longer journey to a rewarding career that may also involve a master's, juris doctor, or a doctorate degree.
The Politics, Policy and Law Scholars Program (PPL)—American University's newest three-year bachelor's degree program, housed in American University's School of Public Affairs (SPA)— is designed for students seeking a rigorous academic program focused on the interdisciplinary principles, practices, and institutions of politics and law.
And as if finishing a bachelor's degree program in three years weren't enough, the program offers the option to pursue a master's degree in an additional fourth year.
"We are looking for those highly-energetic applicants who are coming to AU because they want to change the world," says Jessica Waters, PPL director and SPA professor. "These are students who have a demonstrated commitment to public policy issues, to law, or public service."
Living Learning Community
The 20 students in the inaugural cohort moved into their Living Learning Community in August 2013. These PPL Scholars were chosen from among 130 applicants, who like Global Scholars Program and Public Health Scholars Program students, don't just learn together, but also live together.
"A supportive cohort matters because it builds social support into their academic learning," says Waters. "When they go back to Hughes Hall, they are talking about what they learned in class."
PPL Scholar Caleb Vinson from El Paso, Texas, agrees: "The biggest benefit of the environment is the fact that you can communicate with your peers on topics in which you share an interest."
A Rigorous Curriculum Focused on Writing, Research
PPL students major in Communications, Legal Institutions, Economics, and Government (CLEG) or Law and Society. A high value is placed on research and writing; each semester, PPL scholars will supplement their coursework with a special research and writing seminar, the goal of which is to put them on the fast-track to careers in politics, policy and law or graduate school.
This is an offering unique among American University's three-year degree programs.
For fall 2013, the PPL Scholars are taking "Introduction to Law" with Waters who says, "They challenge me and have interesting questions, which makes me up my game." Next semester, the students will take "American Constitution."
In addition, each student completes a capstone—a complete and original research paper similar to a thesis—to showcase their research and writing talents.
Year-Round Experiential Learning Opportunities
Each student must also complete at least one internship for credit. Faculty mentors from the Government or the Justice, Law and Society Departments are assigned to each PPL Scholar to assist them along the way and to build faculty-student relationships early-on.
During their first semester, students also take a required Wednesday lab which is either a site visit in the city or an on-campus lecture from a faculty expert. This semester alone, the PPL Scholars will visit Congress, the Supreme Court, national public interest groups, and government agencies such as the Consumer Finance Protection Bureau.
"The best part of the PPL Program is when we go off campus," says Emoni Fitch, who is from Winston-Salem, N.C. Vinson agrees, "These unique opportunities to talk about the issues that are in law and power politics are among the greatest benefits of the PPL experience."
Earning a degree in three years means taking classes year round. In addition to taking 15 credits each semester during the regular academic year, PPL Scholars also take 12 credits during each of two summers. The first summer requires a for-credit internship in Washington and two classes. The second summer includes a study-abroad component.
"The idea of three years does not really intimidate me," says Fitch. "I planned on taking classes over the summer anyway."
Meet the First Cohort
"There is every kind of diversity you can imagine," says Waters. "There is a good gender split, racial diversity, geographical diversity, and sexual orientation diversity." According to Waters about 50 percent of the students plan to attend law school.
"Throughout high school, I participated in mock trial, and next year I hope to do mock trial on the AU team." says Fitch. "I am interested in criminal law in the prosecution area. I see myself doing the combined BA/MA and getting some work experience before going to law school."
Among the PPL Scholars are four University Honors Program students and two SPA Leadership Program participants. Many have also earned merit scholarships in addition to financial aid. For example, Fitch earned a Pell Grant and a Frederick Douglas Scholarship. Vinson won a Presidential Scholarship and plans on auditioning for a music scholarship later this fall.
Several students have federal work study jobs and receive other forms of financial aid which are identical to what a four-year student would be eligible over the course of eight semesters.
Time for Extracurricular Activities
Many of the PPL Scholars participate in student activities for relaxation or to get the full college experience, and SPA encourages them to do so. One student already made the cut for American University's mock trial team, earning one of the coveted 13 openings. Another is a cheerleader, one is already involved in student government, several are involved in student political groups, and many of them are runners according to Waters.
Fitch, who has an affinity for language and is fluent in Chinese, participates in the Chinese club and hopes to join the tennis club. Vinson, who has played piano since he was four, joined the AU symphonic orchestra in addition to his private lessons and has tried out for a spot on the basketball club. "Generally my release is basketball," says Vinson, "but piano is how I interpret the world around me."
"It's a very rigorous program, so we recognize that time to pursue their interests is also crucial," Waters says. "Even though they graduate in three years, we really want the PPL Scholars to get the full college experience."