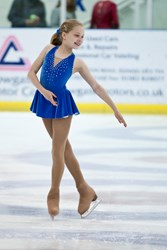 I enjoy challenges and I have been working very hard to try and improve.
Basingstoke, Hampshire (PRWEB UK) 23 October 2013
The promotion will give the skater, 13, access to additional support and funding to help fulfil her potential, as well as the chance of representing Team GB at international competitions and at Grand Prix and ISU Championship level.
Danielle, currently British number one in the Junior Ladies rankings and number four in the Senior Ladies rankings, now joins 10-time British Figure Skating Champion Jenna McCorkell, World Junior Championships skater Karly Robertson and Team GB 2012 Olympic Ambition Programme skater Katie Powell in NISA's Senior Ladies performance squad.
Danielle, who trains six days per week at Planet Ice, Basingstoke, said: "I am really pleased to be invited onto NISA's performance squad."
"I enjoy challenges and I have been working very hard to try and improve, so it was nice to have achieved the target score I needed to make the performance squad."
"I'd like to thank my coaches, Debi and Simon Briggs, and also Gary Peed, Peter Bækgaard, Andrew Smith and Lisa Beaumont who give me so much help and support."
Hilary Selby, Performance Director at NISA, said: "Danielle is an extremely gifted and talented young skater and she fully deserves her place in the performance squad."
"We're extremely proud of her development and we hope to see her go from strength to strength in the coming years."
Danielle, a pupil at the Everest Community Academy, started Skate UK lessons when she was 6. She was selected as a London 2012 Olympic Relay torchbearer in Andover and this year she was chosen as one of just six young NISA skaters to be part the Young Rising Star Development Award Scheme.