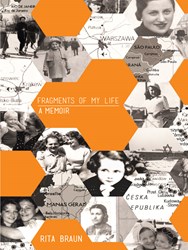 I am part of the last generation of survivors from the Holocaust.
New York City (PRWEB) October 24, 2013
Statistics indicate that more than 5,860,000 Jewish patrons were murdered during the Holocaust, jewishvirtuallibrary.org, and author Rita Braun is one of the few still living.
Braun has written her first memoir "Fragments of my Life" about her experiences running and hiding during WWII with her Jewish family.
"I am part of the last generation of survivors from the Holocaust," Braun said.
This memoir encompasses her life in the 1930s, from childhood to adulthood, and her experiences hiding in different countries, converting to Catholicism and wearing disguises to survive the Holocaust.
"I was protected by my heroic and loving mother and we always found a way to survive," Braun said. "We lived in ghettos, under false identities, converted to Catholicism, hid and found ways out of prison and counted on the benevolence of few to live."
"Fragments of my Life"
By Rita Braun
ISBN: 978-147-596-696-1
Retail price $14.62
Available in hardcover, paperback and e-book
About the author
Rita Braun was born in 1930 in Kraków, Poland, and survived the events of the Holocaust. She and her husband, Mauricio, founded the Bertie Levi store in B'nai B'rith, in Sao Paulo, Brazil, and she was president of the entity for two terms. Braun and her family reside in Brazil. On May 2012 Rita Braun was awarded the "Lygia Fagundes Telles Prize" for her book in Portuguese version.