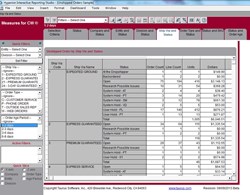 Proactive Alerting and Dynamic Analysis Gives Users Unlimited Visibility for Increased Inventory Performance, On Time Shipments, and Decreased Backorder Costs.
Redwood City, California (PRWEB) October 29, 2013
Taurus Software, a premier provider of business intelligence analytics for multichannel retailers, today announced the addition of a Suite of Inventory Related Analytics to its Measures for CW product line. Designed to complement the Item and Sales Performance Analytics already utilized by many CW/Direct and CW/Serenade customers, these new real time analytics for Inventory, Purchasing, Backorders and Shipments are designed to provide companies with greater visibility and control over their inventory performance.
With these new dynamic, intuitive queries, buyers and inventory managers will be able to carry less unproductive inventory, reduce the purchase of unnecessary inventory, staff the warehouse appropriately, reduce backorders and their associated costs, reduce shipping costs and ensure that they are meeting customer shipment commitments.
The new Inventory Suite of analytics for "Measures for CW" allows businesses to quickly and easily:

Alert the warehouse of orders that should be processed
Identify the status and details of shipments and drop shipments to reduce delays and improve customer experience
See products and vendors causing backorders and the costs incurred
Understand and prevent the causes of backorders
Improve insights into inventory position to make more informed decisions regarding liquidations, carry-overs and re-buys to refine product mix
"With the margin squeeze going on between more competition and almost always offering free shipping, our customers say they need faster and better information to cut costs wherever they can," said Cailean Sherman, President, Taurus Software. "These analyses provide the information necessary to keep a tighter control on inventory, backorders and shipments, which all impact the bottom line."
Unique Business Intelligence Architecture Allows Adaptation
Taurus' analytics are already deployed at over 100 multi-channel retail companies to provide real time visibility for business users into operational data. Unlike other data warehouse offerings, Taurus' environments are easily customized to meet users' unique requirements. CW/Serenade and CW/Direct data is automatically updated in Taurus' Measures for CW ODS real time, so business users are accessing an up-to-the-minute view of their production data –with unlimited ad-hoc query capabilities. Additional data can be added to the environment from any source, for example from Google, or Financial systems. This creates a single version of the truth for corporate wide analysis.
With the addition of these inventory specific analytics, Taurus Software's "Measures for CW" solution is the smart way to access, use and share information that improves your business.
About Taurus Software
At Taurus Software, "making data liquid" means helping companies access their data easily. Taurus products include a variety of applications developed to help clients get more from their data by allowing them to Move, Map, Measure, and Manage data regardless of where it resides. Learn more about Taurus Software and our offerings designed for various data platforms and applications.
Call 650-482-2022 ext. 1, or visit http://www.taurus.com.