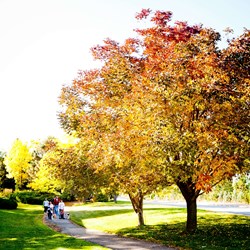 SPD affects 5% to 16% of children in the general population. That is more than 1 child in every classroom.
Denver, Colorado (PRWEB) October 23, 2013
October is National Sensory Awareness month and the Sensory Processing Disorder (SPD) Foundation announces a new membership program which supports funding for research for sensory processing disorder (SPD), a disorder that affects over 4 million Americans. The membership program is open to both professionals and families or individuals and offers sensational benefits. A coupon for merchandise for the same value as the cost of membership, free webinar series, and tax-deductible dues are all just some of the special benefits offered. The membership program funds research at the Foundation, the leading organization focused solely on SPD research.
SPD is a neurological disorder that disrupts the way an individual processes and responds to sensations. A person with SPD usually has difficulty with social interactions, emotion and behavior regulation, and/or motor performance. SPD affects daily activities and relationships impairing quality of life and includes the sensory challenges associated with attention deficit disorders (ADD and ADHD), autism spectrum disorders, anxiety disorders, emotional and behavioral disorders, learning disorders, and other developmental issues.
According to the groundbreaking new study from UC San Francisco, published in the online Journal, NeuroImage: Clinical, researchers found that children affected with Sensory Processing Disorder (SPD) have quantifiable differences in brain structure, confirming a biological basis for the disorder that sets it apart from other neurodevelopmental disorders such as ADHD and autism.
Most children with SPD are just as intelligent as their peers, and many are intellectually gifted. Not all children are affected the same way. One child with SPD may over-respond to sensation, and find clothing and certain foods unbearable. Another might under-respond and show no reaction to pain, while yet another might have coordination problems. Some common signs or red flags of SPD include having:

A floppy or stiff body, clumsy, poor motor skills or handwriting
A sensitivity to touch, noises, smells, or movement
A difficult time dressing, eating, or sleeping
Frequent or lengthy temper tantrums
A craving for movement
"SPD affects 5% to 16% of children in the general population. That is more than 1 child in every classroom. Typically these children are misdiagnosed with ADHD or autism, or they are not diagnosed at all . . . Instead an assumption is made that the child has 'bad' behavior. Sadly, parents are accused of not disciplining their children appropriately or not providing enough structure for their children," said Dr. Lucy Jane Miller, founder and research director of the SPD Foundation. Researchers at the SPD Foundation have been studying SPD for over 30 years.
National Sensory Awareness month provides the opportunity for the public to learn about SPD. Answers to common questions, including the red flags can be found on the Sensory Processing Disorder Foundation's website. Sensation Celebrations throughout the month are being conducted in several communities to raise awareness and funds for the Foundation. These events are listed on the Foundation's web site. Additionally, the Foundation's annual symposium which takes place October 26-28, 2013 in Charlotte, North Carolina, will be available online for the first time. Presentations at the 16th international 3S Symposium - SPD: Science, Strategies & Success offer the very latest findings in SPD research, strategies for practical therapeutic intervention, and successful implementation programs.
The new membership program of the Foundation provides discounts to attend or watch many educational programs, including the archives of its All STAR Lectures Series. Members also receive a coupon worth the value of their membership to the FlagHouse catalog for the value of their membership. Membership dues are used to help raise SPD awareness through education and by finding solutions for SPD through research programs. Membership information can be found at http://www.spdfoundation.net/members.html
ABOUT SENSORY PROCESSING DISORDER FOUNDATION
The Sensory Processing Disorder (SPD) Foundation, a Colorado 501(c)(3), is the world leader in research, education, and awareness for Sensory Processing Disorder, a neurological condition that disrupts the daily lives of more than 4 million Americans. The SPD Foundation offers educational programs, conducts SPD research, and provides resources for parents worldwide. Dr. Lucy Jane Miller, widely recognized as a leader in SPD research worldwide, founded the SPD Foundation in 1979. The SPD Foundation provides hope and help to individuals and families living with SPD. For more information, visit SPDFoundation.net or call 303-794-1182.