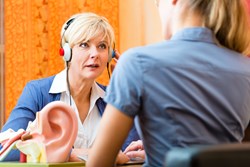 When it comes to ear damage all sound is created equal and is damaging to your long-term hearing health if it's too loud.
(PRWEB) October 23, 2013
In a world where ear buds provide access to everything from music to phone calls, its important to think about the long-term impact of noise exposure, according to Des Moines audiologist Kent Weaver. October is "National Protect Your Hearing Month." Weaver, an audiologist for Des Moines-based Woodard Hearing Centers, and audiologists across the nation are encouraging Americans to think twice about protecting their hearing for the long term.
"Often people don't think of sounds they enjoy like music and radio as noise," says Weaver. "But when it comes to ear damage, all sound is created equal and is damaging to your long-term hearing health if it's too loud. Taking steps now is especially important for those who have not experienced hearing loss that naturally comes with aging."
Weaver suggests the following guidelines for all ages.

Wear hearing protection when around sounds louder than 85dB for 30 minutes or more.
Turn down the volume when listening to the radio, the TV, MP3 player, or anything through ear buds and headphones.
Walk away from loud noise.
Weaver says people don't often understand that you cannot regain hearing loss with prolonged noise exposure.
"Noise-induced hearing loss is caused by damage to the microscopic hair cells, or cilia, which are found in the inner ear. Cilia are small sensory cells that convert the sounds we hear (sound energy) into electrical signals that travel to the brain. Once damaged, our hair cells cannot be repaired or grow back, causing permanent hearing loss," Weaver adds.
The loudness of sound is measured in units called decibels (dB). Noise-induced hearing loss is caused by prolonged exposure to any loud noise over 85 (dB), such as concerts, sporting events, lawnmowers, fireworks, MP3 players at full volume, and more. A brief exposure to a very intense sound, such as a gunshot near the ear, can also damage your hearing, Weaver says.
Weaver adds if you have to shout over background noise to be heard, experience ear pain or your ears ring during and after exposure, you are in a dangerous noise environment. If you have decreased or "muffled" hearing for several hours after exposure, that is a sign of temporary and possibly permanent hearing damage.
"Hearing loss has a huge impact on the person who experiences it -- not only can they not understand speech but it negatively impacts their social and emotional well-being," Weaver says. "Noise-induced hearing loss can occur gradually over time, and people don't often realize they are changing the way they live to make up for the disability."
Seeing an audiologist is important if you suspect you already have a hearing loss, Weaver says. He or she will perform a hearing test to determine the type and severity of hearing loss you may have.
"Hearing is an important part of health that often gets overlooked," Weaver says. "Prevention is the key to avoid unnecessary damage and in patients who have hearing loss, further damage."
About Dr. Kent Weaver
Dr. Kent Weaver has been an audiologist for over 12 years and has conducted research in audiology, written articles for journals, and became an expert in the prescribing and fitting hearing instruments through his affiliation with ChildServe, previously known as the Des Moines Hearing & Speech Center.
Weaver is a graduate of the University of Florida where he earned his Doctoral Degree in Audiology. He also holds a Masters of Communication Disorders from Louisiana State University Medical Center and a Bachelor of Arts Degree from Grand View College in Des Moines. Weaver is a native of Boone, IA.
About Woodard Hearing Centers
Independently owned and operated, Woodard Hearing Centers is committed to providing the highest standard of care as well as the latest technology available in order to maximize your hearing experience. The Woodard team is constantly striving to evaluate new technology that can provide benefits to their patients. In addition, Woodard Hearing Centers prides itself on quality care and caring by providing exceptional customer service and personal attention to each patient's unique needs.
The Woodard Hearing audiology and dispensing staff are licensed by the State of Iowa to provide comprehensive hearing health care services including complete hearing examinations, recommendations on the selection of hearing aids, and expertise in fitting and adjusting hearing aids. Continuing education is required in order to stay current with the ever-changing technology and the advanced level of benefits available to patients.
Woodward has sixteen Iowa locations. Centers are found in Adel, Boone, Chariton, Des Moines, Greenfield, Grinnell, Guthrie Center, Indianola, Knoxville, Mount Ayr, Newton, Osceola, Pella, Perry, Urbandale, and Winterset.