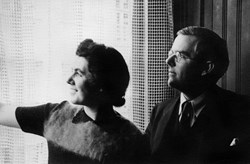 New York, NY (PRWEB) October 24, 2013
Fourteen-year-old Artemis Joukowsky had no idea the heroic role his family played during World War II until he began to interview his grandparents, Martha and Waitstill Sharp, for a homework assignment on moral courage. Flash forward a few decades, and the documentary based on their humble recounting of the story, Two Who Dared: The Sharps' War, a film that was ten years in the making, is now being released through a grassroots effort at churches, synagogues and theaters across the country and worldwide.
Two Who Dared is the previously untold story of Waitstill and Martha Sharp, a Unitarian minister and his wife, who left their young children in Wellesley, Massachusetts to help save imperiled refugees being persecuted in Europe, just days prior to the Nazi invasion of Czechoslovakia.
Of special note is the upcoming screening on Sunday, November 3rd from 2:30pm to 4pm at the Museum of Jewish Heritage. The film is being screened in conjunction with the museum's special exhibition entitled Against the Odds: American Jews and the Rescue of Europe's Refugees. The filmmaker will be in attendance to introduce the film and lead a post-film discussion.
The Museum of Jewish Heritage is located at 36 Battery Place, New York, NY, 10280.
To purchase tickets please click HERE.
Please note that the New York City Marathon is happening on this day so please plan accordingly.
About the Filmmaker
Artemis Joukowsky III, Director and Co-Producer, is a non-profit activist, film producer, and venture capitalist. Since 2000, Joukowsky has overseen and managed all aspects of the Two Who Dared Film Project and the Sharp Education Project. This includes the documentary film, the Sharp Archives at the United States Holocaust Museum and Brown University, and the educational curriculum developed by Facing History and Ourselves. He is currently writing a book about the Sharps, with the same title, due out in 2013. Director and grandson of the Sharps, he is proud to present this remarkable story of courage, documenting the lives of Reverend Waitstill Sharp and his wife Martha. Told from their personal point of view, the film draws on their recorded interviews, letters and unpublished memoirs, and also includes interviews with children rescued and noted scholars.
TWO WHO DARED: THE SHARPS' WAR is a project of No Limits Media, Inc., a 501 (c) (3) organization. Founded in 2001, No Limits Media (NLM) is a multimedia development and production company dedicated to informing and entertaining the estimated 20% of the U.S. population that directly lives with a disability.
For more information, please visit the website at http://www.twowhodared.com