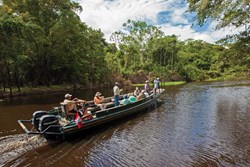 Cruising the world's rivers offers an opportunity to reach protected areas and isolated people in a way that you just can't do from a traditional resort.
Helena, AL (PRWEB) October 23, 2013
Winding through isolated villages and pristine landscapes, rivers provide the main highway — and only way to access — some of Earth's most fascinating lands. For 2014, tour operator International Expeditions is expanding its travel options on the legendary waters of the Peruvian Amazon and Papua New Guinea's Sepik River. IE will offer two Amazon River cruise options aboard the newly launched La Estrella Amazonica and a small-group Papua New Guinea tour using the nine-cabin Sepik Spirit as a base for excursions.
"Cruising the world's rivers offers an opportunity to reach protected areas and isolated people in a way that you just can't do from a traditional resort," said Van Perry, IE President.
Travelers are responding to the lure of the river in record numbers. According to a 2013 Boston Globe report, river cruising is one of the fastest growing segments in the travel market, showing annual double-digit growth for more than a decade.
Amazon
Hailed as the #1 river for travelers by CNN, the Amazon River plays host to more than 1,300 species of birds, an abundance of primates and even pink river dolphins. The riverbanks and surrounding rainforest are also home to Yagua Indians and other river cultures. International Expeditions has offered Amazon tours for 34 years, and recently unveiled a new custom-designed riverboat. La Estrella Amazonica offers amenities and "extras" found on no other boat in the region. Highlighting the riverboat are private balconies for every cabin, multimedia lecture room, fitness center, Hobie kayaks, a nightly reception with complimentary wine and beer, and the Amazon's largest observation deck — more than 1,000 square feet.
IE guests can choose between two distinct Amazon cruises. The 10-day Amazon Voyage pairs a seven-night cruise into the Pacaya-Samiria Reserve with time touring colonial Lima and the frontier city of Iquitos. IE's new 7-day Amazon Riverboat & Lodge option combines three nights on the river with overnights at Ceiba Tops Lodge and in Lima.
Papua New Guinea
From a base at the boutique floating hotel and former riverboat Sepik Spirit, IE guests delve into the traditional beliefs and rituals of the Sepik River. Guided excursions on the 15-day Papua New Guinea tour include meeting the Huli "wig men," crocodile people and other tribes; visiting village spirit houses filled with ornate carvings depicting each village's history; and observing birdlife such as cassowaries, lorikeets and birds of paradise. Travelers also spend two days at the famed Mount Hagen Sing-Sing.
For more information or a brochure, call International Expeditions at 1-800-234-9620 or visit http://www.IEtravel.com.
###
About International Expeditions
Celebrating 34 years of nature travel, International Expeditions specializes in small-group journeys to Earth's most exhilarating destinations. A pioneer of environmentally responsible travel, IE is committed to preserving natural habitats and improving the welfare of the people and communities it visits.