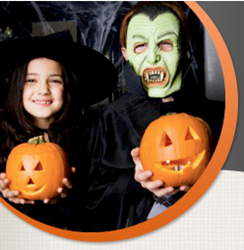 We're making our entire rental pool of hundreds of GPS trackers available for this special event.
New York, NY (PRWEB) October 23, 2013
BrickHouse Security, a premier supplier of security and surveillance solutions, announced that for the second year in a row, it is providing free GPS trackers this Halloween through its unique Track-er-Treat program.
BrickHouse is proud to promote child safety in communities across the United States. Track-er-Treat is about peace of mind during a holiday that's big fun for kids – and a big source of anxiety for grownups.
Parents and caregivers just need to visit the Track-er -Treat page on BrickHouseSecurity.com and claim a free GPS tracker. But they need to act before October 25 to make sure their tracker arrives in plenty of time for Halloween.
"There is no reason for parents to be terrified at the thought of their young trick-or-treaters heading out on their own and getting lost or separated in a sea of costumed kids," said Todd Morris, BrickHouses founder and CEO. "Once again this year, parents can rest easy. We're committed to making Halloween safer, one family at a time."
Small enough to fit in a young child's pocket and incredibly easy to use, the Spark Nano pinpoints any trick-or-treaters location in real time. And parents can instantly find out exactly where their child is from any computer or smartphone. All they need is Internet access. There are no apps to download or extra fees.
Sew the tiny GPS unit into their costume, attach it to any article of clothing or just drop it into their Halloween goodie bag. Or get creative and turn the high-tech device into a cool looking accessory on a little ones space alien or robot costume.
Caregivers can also set a "geofence" around any area of a map they choose and receive an instant text or email alert the moment their trick-or-treater crosses any pre-selected boundary. They can be sure their kids stay within the neighborhood limits they set – and they'll know instantly if they're straying too far afield.
There's even a built-in panic button, which sends an immediate alert if a child runs into unexpected trouble.
"The thousands of customers who already own a Spark Nano can take advantage of the program, too," added Morris. "BrickHouse will optimize their GPS unit's performance for use on Halloween night absolutely free. Just contact our world-class customer service team and well do the rest."
How can a company do this?
"Were making our entire rental pool of hundreds of GPS trackers available for this special event," said Gary Rones, BrickHouses COO. "As the industry's largest supplier of GPS trackers, were in a unique position to help parents and caregivers. The Spark Nano is the same GPS tracker used by police across the country. It's perfect for tracking your precious package"
About BrickHouse Security
BrickHouse Security is a premier supplier of security and surveillance solutions to consumers and businesses of all sizes, including approximately half of the Fortune 500 and more than 500 local and national government agencies. The company also supplies solutions to the NYPD, the LA County Sheriff's Department and the FBI, among others. The company and its products have recently appeared on CNN, the CBS Early Show, NBCs Today Show and ABCs Good Morning America, and have been featured in the New York Times, The Wall Street Journal and many other news organizations. BrickHouse is headquartered in New York City and serves a diverse global client base.