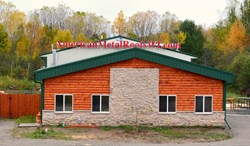 Our new location offers a new look with a larger showroom to display our many product styles and colors. Visitors will be greeted by a friendly and knowledgeable staff that will provide recommendations and answer questions. - Ray Farmer, President AMR
Suamico (PRWEB) October 23, 2013
American Metal Roofs of Northern Wisconsin is excited to announce the opening of their new showroom and manufacturing site located at 4910 Veterans Ave. Suamico, WI.
"Our new location offers a new look with a larger showroom to display our many product styles and colors. Visitors will be greeted by a friendly and knowledgeable staff that will provide recommendations and answer questions." - Ray Farmer, President of American Metal Roofs
The new facility is easily found by taking the Brown Rd exit from Hwy 41. The showroom is located on the East Side of the Hwy. Hours of operation are from 8:00 A.M. to 5:00 P.M. Monday thru Friday and Saturdays by appointment.
American Metal Roofs of Northern Wisconsin offers year round installations as well as monthly, Do It Yourself Training Seminars. The seminars are free; however, participants are asked to register online, in advance, as seating is provided on a first-come first-served basis.
In addition to DIY registration, the website, AmericanMetalRoofsWI.com offers information regarding all products and services. Photo galleries and customer testimonials can also be found as a resource to help visitors learn more and make the best decisions possible.
Free consultations may also be arranged by calling 920-434-4200 during regular business hours. Literature and listings of homes that American Metal Roofs have completed are also available upon request.
About American Metal Roofs: American Metal Roofs provide residential and commercial metal roofing products and services throughout Northern Wisconsin. Customers receive stunning, permanent, energy-saving metal roofs, professionally installed.