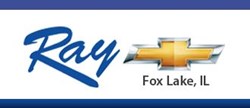 We are thrilled to be hosting the food drive again this fall, and can't wait to meet our goal of filling the Grant Township Food Pantry.
Fox Lake, IL (PRWEB) October 25, 2013
Get a jump start on the season of giving with Ray Chevrolet of Fox Lake. The dealership is hosting their annual Food Drive for the Grant Township Food Pantry, and is encouraging everyone in the community to stop by and drop off non-perishable food items to help local families in need fill their plates. This year, Ray Chevrolet is looking to fill the pantry with goods that are in high demand. Specific items needed by the pantry include:
Pancake mix and syrup, peanut butter and jelly, Jell-O and pudding mix, chicken & dumplings, chili & sloppy Joe, skillet dinners, canned meat, canned vegetables, soup; canned & dry, canned potatoes & yams, pork & beans, pasta & sauce, canned pasta, beef stew, canned fruit, mashed potatoes, juice & drink mixes, dry beans & rice, crackers, cereal, Ramen Noodles, macaroni & cheese, canned tuna & salmon, cake & frosting mixes, snacks, condiments, coffee & tea, stuffing, pie fillings & crust mix, gravy, dish soap, toilet paper & Kleenex, and toiletries.
"We are thrilled to be hosting the food drive again this fall, and can't wait to meet our goal of filling the Grant Township Food Pantry. It's a great way to give back, and get the community involved to help local families in need," said Tom Templeton, Community Relations Manager at Ray Chevrolet.
Ray Chevrolet has a large drop off point at their dealership, located at 39 N Route 12, Fox Lake, IL 60020 and are collecting items throughout the entire season. To show appreciation for those generous donors who participate, Ray Chevrolet has bought out a private movie theater for an exclusive pre-release showing of Hunger Games 2: Catching Fire at Classic Cinemas in Fox Lake, IL. Those donors who drop off a minimum of 10 items will receive a ticket for the showing, to take place Thursday, November 21st at 7:00 pm.
About Grant Township Food Pantry
Located at 26725 W. Molidor Road, Ingleside, IL, 60041 the Grant Township Food Pantry services those in need by providing food and other essential non-perishable goods at no cost. Hours of operation are Monday - Friday: 9:00 a.m. - 4:00 p.m. however it is recommended to call the pantry at (847) 740-2233 to confirm hours before visiting.
About Ray Chevrolet
At Ray Chevrolet, our goal is to give you the best car buying experience possible. We aim to have the best selection of new and used inventory, and pride ourselves on working with our customers through all aspects of the car buying process, from conveniently getting a quote in person or online, to applying for financing, and scheduling service appointments.
Voted one of the 'Best Automobile Dealerships in Chicagoland' by the 2013 Daily Herald Reader's Choice Awards, we continue to strive for excellence. We have devoted ourselves to serving our customers, and believe the cars we offer are the highest quality and ideal for your life needs. We understand that you rely on our staff for accurate information, and it is our pledge to deliver you the best deals and service for your new or used Chevrolet.