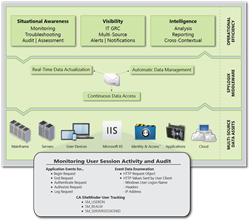 Comprehensive end-user tracking that spans web, identity and access management technologies provides needed information for business and IT staffs tasked with supporting online application systems automating business processes.
Merrillville, IN (PRWEB) October 23, 2013
IdentityLogix, a leading provider of software for continuous, real-time monitoring of enterprise information security digital assets, today announces that it is releasing SpyLogix for IIS for general availability. This new SpyLogix module adds to its Microsoft suite, including modules to natively monitor Active Directory, Windows Server and FIM 2010.
SpyLogix for IIS SpyLogix for IIS was designed in response to customers wanting continuous visibility and
real-time analysis for user tracking when using web applications. With today's announcement:

Business users responsible for web based online information systems have real-time and periodic feedback to effectively measure and assess application effectiveness.
IT staff can gain analysis and visibility into complex technologies supporting business process automation for faster troubleshooting or improved operational awareness.
"Comprehensive user tracking spanning web, identity and access management technologies provides needed information for business and IT staffs tasked with supporting online application systems automating business processes. In keeping business information safe, people need efficient means to manage IT services effectively or resolve problems quickly across levels of complex technologies," said Michael A. Hlebasko, president and co-founder at IdentityLogix.
SpyLogix for IIS SpyLogix for IIS is a module that works in conjunction with SpyLogix Platform to enable continuous monitoring of Microsoft IIS. This information is critical for situational awareness, effective troubleshooting, performance monitoring, change management, or generating compliance and management reports.
Included with today's announcement is enhanced user session tracking for CA SiteMinder secured websites. IIS user request and select CA SiteMinder session data are integrated and continuously streamed to, managed and analyzed by SpyLogix in a continuous process.
SpyLogix Enterprise is state-of-the-art security middleware software which enables continuous information assurance efficiently across key enterprise digital assets including IIS by Microsoft and CA SiteMinder by CA Technologies. Managers and administrators responsible for the health of these systems are afforded an easy to use system enabling proactive management of operational situations, rapid identification and resolution of issues across multiple platforms, simple access to data for compliance reporting and a standards based way for sharing data with other systems or IT service processes.
About IdentityLogix:
IdentityLogix is an innovative software company offering products that improve the efficiency and effectiveness of people, processes and technologies entrusted with keeping business information safe. SpyLogix™ Enterprise, the next generation in continuous information security monitoring, embodies a significant new paradigm shift for simplifying and enhancing information security inside the network perimeter by employing enterprise scalable security middleware that simplifies continuous monitoring and real-time data analysis for user activity, identity and access management systems.
Business and government entities now have a single enterprise security intelligence system for enabling proactive operational awareness, faster troubleshooting and problem resolution. Continuous streaming security data, advanced message communications, automatic data management and real-time data analysis/action capabilities substantially enhance security process efficiency and effectiviness. Historical data trending visibility is useful for strategig planning or monitoring policy design. Using SpyLogix Enterprise results in lower costs for people, processes and technologies working continuously to keep business information safe, improve audit "time-to-value," and simplify IT processes, such as information security management, risk control or compliance with regulations.
For more information please visit http://www.identitylogix.com.
IdentityLogix and SpyLogix are either registered trademarks or trademarks of IdentityLogix in the United States and/or other countries. All other trademarks or trade names are property of their respective holder.