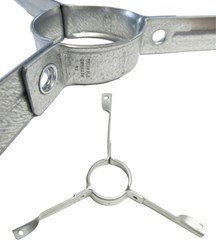 Oshkosh, WI (PRWEB) October 23, 2013
Triangle's use of automation and robotics has evolved into cost-savings for the HVAC industry. One of the leading manufacturers of motor mounting brackets, Triangle, has expanded its fastening options from welding to include crimping.
Welding is costly, slow and dangerous when done by hand; as most manufacturers can attest. Triangle's automated process currently allows for fast, strong crimping of components without any delay or danger to a production worker.
Crimping provides cost saving benefits along with a stronger, more sturdy design. Triangle's internal testing showed crimped components held up to exceedingly high stress, with the steel bending before the joints showed any wear. The crimped products also have a cleaner appearance without visible welds.
About Triangle Manufacturing
For almost a century, Oshkosh, Wisconsin's Triangle Manufacturing Company has used a foundation of experience paired with technical know-how and advanced automation to be the leader in fully customizable metal fabrication, product innovation and invention. We have introduced and redesigned fresh products that are progressive in their respective industries. Whether you need lazy susan bearings and HVAC components, pillow block mountings and blower bearing brackets or rod ends and direct-drive motor mounts, you can rely on Triangle Manufacturing's Creative Engineering. For more information, samples or quotes, visit us at http://www.TriangleOshkosh.com.
Contact:
Kylie McGowan
Marketing Coordinator
http://www.TriangleOshkosh.com
info(at)triangleoshkosh(dot)com