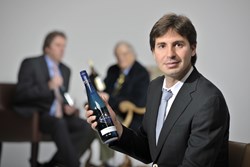 Blue Nun is a traditional, well-established wine brand that needs a modern touch and a global brand strategy.
(PRWEB) October 23, 2013
Private winery, Langguth Erben, has recently announced Patrick Langguth as the company's new Head of the International Sales Department. In his new position, Langguth will be tasked with revitalizing the brand's message, while maintaining their long-standing reputation for quality in winemaking.
As an eighth-generation winemaker, Patrick Langguth brings his long-time family experience, as well as, a background in International Business Administration from the University of Frankfurt to his new position. While he will manage all international affairs for the company, his focus will surround the company's premier brand, Blue Nun. One of the most successful German wine brands around the globe, Langguth will reposition Blue Nun by targeting a younger, more sophisticated demographic. New initiatives that have already been executed include a revamped logo and updated packaging that reflects the brand's new direction.
Langguth explains, "Blue Nun is a traditional, well-established wine brand that needs a modern touch and a global brand strategy. This is what we are working on at the present. It is important that the tradition of the brand evolves with our family business. To me, this will be driven by our environmentally-friendly development of a sustainable brand identity along with our international focus."
Currently Blue Nun offers three varieties in the United Sates: Blue Nun Authentic White, Blue Nun Winemaker's Passion Riesling, and Blue Nun Sweet Red. Although the products share the same name as the original brand, there have been important changes over the past years. When the Langguth family bought the Blue Nun brand, they implemented a process known as Sichel Superior Vinification, which utilizes a cold fermentation process—meaning the grapes are slowly fermented at a constant temperature allowing the winemaker to choose when to stop the fermentation process.
Authentic White is a perfect blend of classic German grape varieties, and provides consumers a quality product at an affordable price. Blue Nun products are available in retail chains nationwide, for a full list of retailers, visit http://www.bluenunwines.com.
###
For more information on Langguth Erben, please visit http://www.langguth.de. For press inquiries or to request an interview, please contact Sara Shake of Exposed PR at sara(at)xpsdpr(dot)com or 954.900.3691.
Langguth Erben is a private winery, F.W. Langguth Erben GmbH & Co. KG, dating back to the year 1789. It was founded by Franz Wilhelm Langguth and is still family-owned today, currently being run by the eighth generation. The business, which belongs to the small and medium-sized enterprise range, has its headquarters in Traben-Trarbach / Moselle and Berlin and is one of the best-known German wine producers. The business is strongly involved in the most important European wine-growing areas as well as in the Mornag wine-growing area of Tunisia. Among the established range of wines are Erben®, Medinet®, Toscanello®, Sontino®, Edler vom Mornag®, Mario Ferrini®, Langguth Himmlisches Tröpfchen®, Copa del Sol® as well as the South African Kaya® brand. For more information visit http://www.langguth.de.