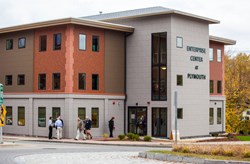 "We are excited to have Alba Architects working on the Enterprise Center" said Bill Webb, Chairman of the Board of the GDEDC. "Given the demand for their work, it was great to be able to get them involved."
Plymouth, NH (PRWEB) October 23, 2013
The Enterprise Center at Plymouth's (ECP) grand opening was celebrated on October 15 and drew more than 150 people, including Governor Maggie Hassan. All in attendance joined to show their support & enthusiasm for the new state-of-the-art facility, which is already occupied by 5 emerging businesses. The new building, located at the gateway to the PSU Campus at One Bridge Street, was designed by Alba Architects and replaces the original Richelsons department store building which most recently served as an art gallery for PSU student exhibits.
The ECP is a business incubator and accelerator that will support small businesses and economic development in central New Hampshire by providing services, including leased space, mentoring, and networking to new and existing businesses.
Governor Maggie Hassan said the ECP provides a great platform to grow the businesses of the 21st century. "New Hampshire stands at the threshold of a bright new future, as well positioned as any state to lead the country in innovative economic growth," Hassan said. "The Enterprise Center at Plymouth will play an integral role in seizing this opportunity, supporting entrepreneurs, small business owners and economic development throughout central New Hampshire."
Alba Architects, having recently completed the design of the new $3 million expansion to the Woodstock Inn Station & Brewery, was chosen from among several architectural firms for the challenging design of this new flagship addition to the PSU campus.
"We are delighted to be working together with PSU and the GCEDC to help bring this important economic development project to fruition" said Stuart Anderson of Alba Architects. "The long term, positive impact of the Enterprise Center on the local community will be substantial. We are proud to be part of that and honored to have been chosen for this project."
Alba Architects LLP was formed in 2011, providing high quality architectural services utilizing the most up to date technologies and methods, at a fee in line with the region and clients' economic constraints. Alba approaches each project with a mind to contribute to a more stable and sustainable built environment. Based in northern & central New Hampshire, Alba Architects are well placed to serve the needs of these communities.
###