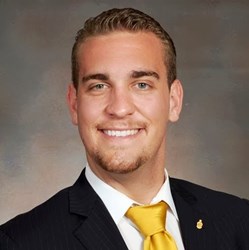 His policy motto is simple--SUSTAIN: San Diegans United for Sustainable Technology and Innovation Now
San Diego, CA (PRWEB) October 23, 2013
Michael Kemmer, 22-year-old senior at San Diego State University, is the youngest candidate in the race for Mayor of San Diego. Kemmer is among 10 candidates that are on the ballot for the November 19 special election to lead the 8th largest city in the nation. Kemmer is registered independent in this nonpartisan race and hopes to avoid obstacles that come with bipartisan spats in office.
Double majoring in Management Information Systems and Political Science, Kemmer plans to implement technology into local government operations to enhance efficiency and user experience. His policy motto is simple--SUSTAIN: San Diegans United for Sustainable Technology and Innovation Now. Starting with technology, he aspires to implement more user-friendly solutions into city-run departments.
Kemmer plans to create more jobs in the tech field strongly relates back to the fact that technology is our future. If more jobs and partnerships are promoted in San Diego, then there will be more opportunities for college grads to land a job. Another initiative in office is to renew the City's Charter, which has been only patched up since 1937, rather than overhauled and remade from scratch. All of these changes have lead to sections that contradict each other and in some cases are misaligned with state law and the San Diego municipal code.
Aside from promoting more jobs and creating a better charter, Kemmer sees a lot of potential in LEED Standards, a green building initiative. These standards revolve around sustainability and how well a business or organization can utilize those standards. He believes that going forth with these initiatives, such as having solar panel roofs and insulated windows, are simple and sustainable ideas that could easily be incorporated into new structures as well as buildings that need retrofitting.
Moreover, Kemmer wants to implement a blue-ribbon panel of civic leaders, business owners as well as community leaders that can help bring in the improvements that the city needs and wants to see. The purpose of the panel will be to capitalize on the knowledge of business professionals, community leaders and academics. Cities, such as Los Angeles, have such commissions and panels.