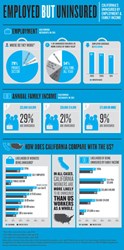 In all cases, California workers are more likely to be uninsured than U.S. workers as a whole. -- California Healthcare Foundation
Long Beach, CA (PRWEB) October 23, 2013
Through a partnership between Save On Medical and Relevant Healthcare Cost Containment, the price transparency website, (http://www.saveonmedical.com) now is listing pricing and quality scores. Patients can compare over 40 physicians in the Long Beach area and schedule appointments online.
Save On Medical (SOM) is among few organizations that see the need for price and quality transparency. Catalyst for Payment Reform is pushing for similar clarity in the marketplace. Thanks to Relevant Health and SOM, California is making large strides in the right direction.
Californians in particular will benefit from this new availability, as they're tied for 4th in the nation for state with the highest uninsured population (The Kaiser Family Foundation reported 20% uninsured in 2011). In Long Beach, the 2011 census revealed 19.4% of residents lived below the poverty line.
Kaiser reported, "that the uninsured are less likely than those with insurance to receive preventive care and services for major health conditions and chronic diseases." This happens because individuals without healthcare believe that they can only afford subpar healthcare, if they can afford it at all.
With Save on Medical, hundreds or providers are available with the click of a button, revealing price and quality scores for each individual to judge for him or herself.
About Save On Medical
Save On Medical is a website for patients shopping for and scheduling affordable radiology procedures. Patients can compare physicians based on price, quality and convenience. Save On Medical allows for price and quality transparency in the health care market, helping patients make smart consumer-driven healthcare decisions. Just like travel websites like Hotels.com and Travelocity, Save On Medical provides patients with a list of options, and the ability to pay for medical procedures at a fraction of the price.