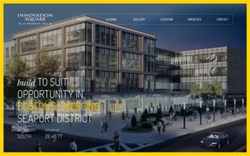 The website showcases our unique build to suit opportunity as well as Boston's emerging Seaport District.
Boston, MA (PRWEB) October 23, 2013
Boston's latest development, Innovation Square, is a cutting-edge build to suit opportunity located in the city's emerging Seaport District, the country's most sought after submarket. Surrounded by a wealth of amenities and transportation, this exciting space on Northern Ave. can accommodate laboratory/office, R&D, bio-pharma and manufacturing uses.
Innovation Square, in partnership with the Boston Redevelopment Agency (BRA), is the brainchild of leading real estate development and consulting company Kavanagh Advisory Group, and is represented by Avison Young who are responsible for the marketing and leasing of the property, led by principals Karyn McFarland and Kevin Malloy.
The new website, http://www.innovationsquareboston.com was created by commercial real estate marketing agency inMotion Real Estate Media, and has been recognized by Awwwards for best design. The design emphasizes the idea of innovation with a contemporary user interface and an engaging modern single-page experience that showcases the development's main features through strong imagery, a smart interactive amenities map and photo galleries. The pages were integrated with a Wordpress content management system allowing the team at Avison Young to easily access and make updates to web pages if needed once the site was launched.
"We are very pleased to be launching the new website for Innovation Square. The website showcases our unique build to suit opportunity as well as Boston's emerging Seaport District," says McFarland.
You may visit the new website at: http://www.innovationsquareboston.com.
About Avison Young
Founded in 1978, Avison Young is Canada's largest independently-owned commercial real estate services company. Headquartered in Toronto, Ontario, Avison Young is also the largest Canadian-owned, principal-managed commercial real estate brokerage firm in North America. Comprising more than 1,300 real estate professionals in 53 offices across Canada and the U.S., the full-service commercial real estate company provides value-added, client-centric investment sales, leasing, advisory, management, financing and mortgage placement services to owners and occupiers of office, retail, industrial and multi-residential properties.
About inMotion Real Estate Media
inMotion Real Estate Media is a full-service real estate marketing firm of choice to some of the nation's top commercial real estate developers, brokers and investment firms. The firm provides marketing solutions for high-profile commercial real estate projects, from web development and design to video production and online marketing.