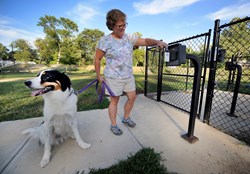 We are doing the majority of the city's access management with Brivo. We've installed video surveillance cameras for this city as well, but lately most of the demand is for installing Brivo. - Chris Gilbert, Founder and President, Security Pros
Bethesda, Maryland (PRWEB) October 23, 2013
Brivo Systems LLC, leader in cloud applications for security management, today announced that Jeffersonville, Indiana, continues to roll out the Brivo OnAirSM hosted cloud-based access control and video surveillance management solution to a number of different departments and locations throughout the city. Security Pros is the Brivo dealer and installer for this on-going project.
Jeffersonville is the county seat for Clark County, Indiana. It is directly across the Ohio River to the north of Louisville, Kentucky, and is home to approximately 45,000 residents.
Over a number of years, Chris Gilbert, and his company Security Pros, has been working with various officials of the Jeffersonville government to upgrade the city's access control management capabilities. Brivo cloud-based access control has been installed to manage access at the city's wastewater treatment plants to control all access gates, and to manage the Department of Streets' access points and buildings. Recently, Gilbert has been working with the Police Department to specify Brivo OnAir for the new police building.
"We are doing the majority of the city's access management with Brivo," explained Chris Gilbert, Founder and President, Security Pros. "We've installed video surveillance cameras for this city as well, but lately most of the demand is for installing Brivo OnAir at an expanded number of locations." Presently, the city manages about 30 access points with Brivo. Gilbert expects that number to increase substantially over the next year or so.
Recently, the city completed a $4 million renovation at Vissing Park, one of their more prominent parks—new softballs fields, press box, and bathrooms. Problems arose because park staff locked the bathrooms at 4:30 or 5 PM upon leaving, but park users still needed facilities. Simply leaving the bathrooms open or on electronic timers invited vandalism and graffiti. Paul Northam, Director of Parks and Recreation, came to Gilbert looking for a solution.
"We were familiar with the Brivo technology and we knew we could simply set up automatic schedules for the two sets of bathrooms at the park and connect and transmit wirelessly. Now, the public has access from 6 am to 10 pm and we have a record of the access for each bathroom," said Northam. As the city has continued to expand its use of Brivo OnAir, other possible uses have emerged.
Jeffersonville recently upgraded public facilities by building Highland Dog Park, but how to manage access and even generate revenue? By installing Brivo at the two dog park entrances and providing access cards in exchange for an annual fee, residents and their dogs can now enjoy all the dog parks have to offer, and they know they and their pets are safe. Northam explained, "The dogs need to have five different kinds of vaccinations and all five must be up to date for the dog owner's access card to stay valid."
Dog vaccinations can expire all on one day in the year or on five different days. With Brivo it doesn't matter; Gilbert programs the access cards for the one year membership, but also to "turn off" if any of the vaccinations is not renewed prior to expiration. This provides the owner with plenty of incentive to keep vaccinations up to date and to pay the annual fee on a timely basis. "The Brivo system works well for us, I'm pretty confident in how we've set this up, and it allows us to promote the fact that we offer a safe park environment," said Northam. Brivo also gives the city an effective, nearly automatic tool to maximize revenue for the dog park—not a small matter in an era of tight city budgets.
As the city looks to build future dog parks, the Brivo technology offers a winning solution. Also, as new public parks are built and existing parks are updated and/or expanded, Gilbert sees excellent potential to install Brivo and to help the city move toward standardizing on one technology for all their access control needs.
Gilbert and Security Pros provide consultation and installation expertise for Jeffersonville, and they also offer managed access control services for any of the city's departments who wish to delegate those administrative duties. "We have an excellent partnership with the city," explained Gilbert. "We want to offer a single, superior technology solution, instead of installing and servicing a hodgepodge of equipment. It makes a lot of sense."
For more information on Brivo Systems, contact Brivo toll–free at 1-866-692-7486 or email sales(at)brivo(dot)com.
About Brivo Systems
Brivo Systems LLC is a SaaS-based security management systems provider for organizations that need to protect and remotely monitor buildings and perimeter entry points. When introduced in 2001, Brivo's Web-hosted physical access control system was a unique solution—after a decade of evolution and innovation, it still is. Brivo's groundbreaking physical access control and video solutions empower organizations by giving administrators real-time device control, including immediate visibility of security events and video in local or remote facilities—anytime, anywhere.
The company's innovative, secure, and open architecture-based products and services enable businesses to protect people and assets, comply with regulations, and improve business operational efficiency. These scalable systems—whether standalone or appliance-based or cloud-based—offer a solution for every type of business. Brivo's security management products are a market-proven fit for commercial office buildings, warehouses, retail stores, manufacturing plants, and sensitive areas, such as server rooms or R&D labs, where real-time control and accountability of entry are important.
With headquarters in Bethesda, MD, Brivo is a wholly-owned subsidiary of The Duchossois Group, a privately held holding company headquartered in Elmhurst, Illinois, which also owns other industry leaders such as AMX, The Chamberlain Group, and Milestone AV Technologies. Duchossois also holds strategic interests in Churchill Downs, Inc., and a number of other diversified businesses.
For Media queries:
Bruce J. Doneff
Public Relations
(843) 476.3022
bruce.doneff(at)brivo(dot)com
For Brivo Systems, please contact:
Rajeev Dubey
Senior Director, Marketing
301.664.5251
rajeev.dubey(at)brivo(dot)com
###