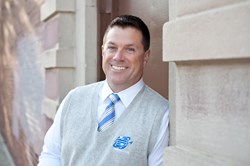 The PMA has been one of the best associations I have ever been part of.
Elk Grove Village, IL (PRWEB) October 23, 2013
Joe Lundvick, COO & Partner of Perfection Global, LLC, was recently appointed the new District Chair of the Precision Metalforming Association's (PMA) Chicago District.
Since joining the PMA, Lundvick has been an active and supportive member. He served as part of the officers team that received the 2012 Best District Award ,which is given to the district that best provides outstanding programming and exudes professionalism in the manner in which their district is operated.
With more than 20 years of experience, Joe Lundvick has proven himself to be a successful leader and entrepreneur within the industrial machinery industry. Currently, he serves as Partner & COO of Perfection Global, LLC. Founded in 1963, Perfection is known for successfully buying and selling used industrial assets worldwide – one item or an entire company.
"The PMA has been one of the best associations I have ever been part of," said Lundvick. "The networking opportunities are almost limitless, the educational seminars are always topical and the many business associates we have met, many of whom have become friends, continue to make my involvement in the PMA a real pleasure."
The PMA is a full-service trade association representing the $113-billion metalforming industry of North America—the industry that creates precision metal products using stamping, fabricating, spinning, slide forming and roll forming technologies and other value-added processes. The PMA has 17 districts located throughout the United States and Canada.
About the Chicago District of Precision Metalforming Association
The Chicago District of PMA serves metalforming companies in the greater Chicago area. Programs provide excellent opportunities for networking locally, increasing sales, expanding professional expertise and meeting customer demands with innovative methods.