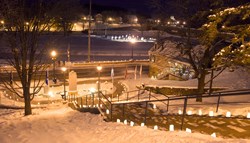 Galena, IL (PRWEB) October 23, 2013
Chestnuts roasting over an open fire. Carolers singing a holiday tune. The romantic glow of a town illuminated with the gentle flicker of luminaria. And everyone is enjoying simple pleasures. Hot chocolate. Candy canes. Festively wrapped gifts.
Step back and enjoy the sights and sounds of the holidays in Galena. Festivities begin just as soon as the ghosts and ghouls from the hallmarked Halloween Parade go back into hiding for another year. The temperature cools, often crystal-like snowflakes start to fall, and the charming shops transform into a magical wonderland.
Be sure to join the fun as Santa Claus comes to town—after Thanksgiving—on Saturday, November 30. During the celebrated tradition, Santa makes his way down Galena's historic Main Street to the Old Market House (123 N. Commerce Street), where he meets and greets children of all ages. Youngsters can sign their names in Santa's timeless book (and perhaps even find their parents' names written within) and sit on his lap to whisper holiday wishes. Those who visit Santa leave with a bag filled with treats to tide them over until the big day arrives. Santa will be at the Old Market House, looking forward to seeing all of the good boys and girls, every weekend following Thanksgiving through December 21.
Another Galena tradition comes the weekend of December 13-14, when the town becomes aglow with thousands of luminaria candles placed in bags flickering and lining the town's sidewalks, steps, parks and levee. "Living Windows"—storefronts that come to life with costumed locals—enchant shoppers and those out for late afternoon stroll before dinner. Musicians and choral groups perform to set the holiday mood for passersby.
For those of you who want a "little more" holiday fun, join the ugly sweater contest and luminaria pub crawl to "warm up" this holiday season and enjoy time with friends, also on December 13.
And there's so much more. From quilt shows to a festival of trees to holiday tours of historic bed and breakfasts and progressive dinners, you'll find holiday spirit here. Galena, Illinois. The quiet escape into a time and a place where you find the peace, romance and love shared in the season abounds and you can relax and create memories that will last a lifetime—one of the greatest gifts of all.
November 2013
2 - Swing & Sweets at the DeSoto House Hotel
2 - Holiday Farmers' Market at the Galena Territory Owners' Club
8-9 - Galena Antique Show & Sale at the Galena Convention Center
8-10 - Galena/Jo Daviess Quilt & Fiber Arts Show at Turner Hall
16 - "Deck the Halls" Festival of Trees at DeSoto House Hotel
22-23 - Nouveau Wine Weekend
29 - Santa at the Old Market House
30 - Arrival of Santa Parade & Lighting of Tree
30 - Women of Courage & Commitment Christmas Program at DeSoto House Hotel
December 2013
6, 13, 20 & 27 - A Goldmoor Christmas Carol Dinner at Goldmoor Inn
7 - A Taste of Christmas Progressive Dinner sponsored by BBIG
7 - Christmas at Apple River Fort State Historic Site
7, 14 & 21 - Santa at the Old Market House
13 - Luminaria Pub Crawl & Ugly Sweater Contest
14 - Living Windows & Luminaria
14 - Mistletoe Stroll: Holiday House Tour sponsored by BBIG
For more information on lodging, dining, or additional activities, visit http://www.visitgalena.org.