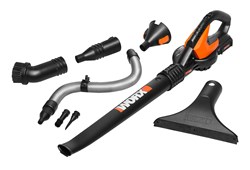 We're so accustom to using a broom and dust pan for cleanup jobs, but there are other, more efficient options. - Brandon Martin, product manager for WORX
Charlotte, N.C. (PRWEB) October 23, 2013
Nearly 85 percent of the dirt in homes today is tracked in, blown in or carried in through the front and rear entry doors, garage, patio or deck. The key to reducing the flow of dirt is to create a clean zone around the home's perimeter. This minimizes dust, dirt and debris from entering the threshold.
Timing is everything. In as little as two minutes, dust, dirt and debris from the front step can be cleared; in three minutes, the patio or deck could be dirt free, and in less than six minutes, the entire garage could be in tip top shape without ever lifting a broom or dust pan. Instead, WORX recommends homeowners grab their WORX Air to do the dirty work.
"We're so accustom to using a broom and dust pan for cleanup jobs, but there are other, more efficient options," said Brandon Martin, product manager for WORX. "In some applications, the WORX Air is an alternative and one that speeds the cleaning process."
First time homeowners will find the blower/sweeper and AIR attachments handy. The multi-fit attachments are included with the WORX 20V and 32V MAXLithium Blower/Sweeper models. The AIR attachments each have multiple applications, including cleaning, drying, clearing, inflating and deflating applications. Each attachment is designed to fit the WORX blower/sweeper and can be used separately or in combination.
For example, the AIR Compact Tube's stubby air cannon's concentrated air blast clears out dust and debris from screened-in porches, patio steps, walkways, garage floors and more.
The AIR Wand is approximately the width of a kitchen dust pan. It sends a sliver of compressed air through its narrow opening, functioning like an air broom to clear dust and debris. It also serves as a drying tool by sending a curtain of air over windshields, patio sliding glass doors, windows and other areas.
The AIR Dust Brush is great for removing dust and debris in hard-to-reach areas. The 90° extension wand with air brush is great for clearing out cobwebs in corners, both indoors and out. It's also handy for cleaning sliding door and window frame tracks.
An optional AIR attachment is the WORX AIR Gutter Cleaning Kit. It includes a series of five attachments that fasten to the end of the WORX blower/sweeper outlet housing. Use all five or a combination of the attachments to clean gutters. Once connected, the blower is turned on, so that it sends a blast of air down the gutter's channel, dislodging dirt, leaves, shingle particles and other debris in its path.
WORX quick cleanup solutions outside the house, continue inside with their A Clean Zone Sweepstakes. One sweepstakes winner will receive free weekly cleaning service inside their home for six months plus a WORX Air. Ten runners up also receive a free WORX AIR. Entrants must be 18 to enter and live in the U.S. Visit Create A Clean Zone Sweepstakes and click on the "Create a Clean Zone" Sweepstakes tab to enter the drawing. Participants receive one entry for completion of the submission form during the promotion period, plus one additional entry for sharing the sweepstakes on his/her Facebook page. Only two entries per household will be accepted. The grand prize winner will be announced after the sweepstakes closes on or about February 3, 2014.
The WORX AIR blower/sweeper with attachments and Gutter Cleaning Kit are available at http://www.worxair.com.