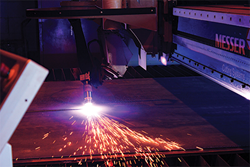 "In order to bring customers the most advanced and high quality products on the market, you have to keep up with the technology," said FEECO President, Dan Madigan. "This is a prime example of our commitment to doing that."
Green Bay, WI (PRWEB) October 23, 2013
FEECO International, Inc., a leader in OEM Equipment, has announced the replacement of the plasma cutter in their fabrication center with a state of the art Messer Titan II system.
The Messer Titan II, a 400 amp High Definition plasma cutting table, is capable of cutting 3 ¼" steel, and features contour beveling and "True Hole Technology." At 10' x 40' in size, the burn table will allow FEECO to increase their in-house cutting capabilities, as well as run at a higher capacity, due to increased production speeds, resulting in lower costs to customers.
The burn table also features precision arc plate etching for fabrication layout, decreasing the burden on fabrication teams during production. Ultimately, the speed and precision that the cutting table offers will result in a better end product.
"In order to bring customers the most advanced and high quality products on the market, you have to keep up with the technology," said FEECO President, Dan Madigan. "This is a prime example of our commitment to doing that."
Learn more about FEECO's manufacturing capabilities.