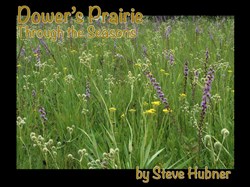 'The Dower's Prairie project is an outstanding example of the passion that a human can give as a lover and steward of nature and of the never ending hope that future generations will love and cherish nature's ecosystems as Steve Hubner does!' - Gary Eldred
Menomonie, Wisconsin (PRWEB) October 24, 2013
Steve Hubner shares his love for restoring nature in his first e-book, "Dower's Prairie Through the Seasons". Over 25 years ago, Hubner became interested in a cow pasture near his home in southwest Wisconsin. He recognized several rare and regionally declining plant species growing among the multiflora rose. Through photographs and an earthy narrative, Hubner describes how he discovered, protected, and restored one of the few high-quality patches of deep, black-soil prairie found east of the Mississippi River.
Dower's Prairie is not publicly accessible. This e-book is Hubner's way of sharing with a wide audience the prairie's beauty as well as his sense of satisfaction at helping return original diversity and beauty. That beauty is revealed in over 50 color photographs, organized seasonally. Any one interested in nature should enjoy this e-book.
Hubner has long been active in local conservation and sustainability efforts. He is an active volunteer with The Prairie Enthusiasts, a regional grassroots conservation organization that protects and restores fire-adapted prairies and savannas. He recently retired as the zoning administrator for Lafayette County, Wisconsin. This is his first book.
"Dower's Prairie Through the Seasons" is published by Economo E-Books and is available exclusively from economoebooks.com. Ecologist Dr. Mark K. Leach started Economo E-Books to help meet the learning needs of the environmental community. This is the company's second release.