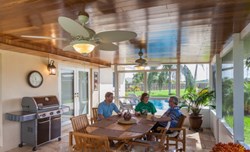 The screened patio enclosure adds near year-round use, and it does it affordably.
Miami, FL (PRWEB) October 24, 2013
The solid growth in residential business for Venetian Builders, Inc., during the first half of 2013 reflected in part a record pace for installation of screened patio covers and for repairs in Coconut Grove, Venetian President Chris Noe said today.
"Our first-half volume has been up considerably in almost every municipality we serve, and Coconut Grove was no exception," Noe said.
Venetian installs custom-designed sun rooms, patio covers and swimming pool screen enclosures in Miami-Dade, Palm Beach and Broward counties and in the Keys in Monroe County. Its first-half residential sales across those four counties surpassed sales for all of 2012, Noe said.
"In Coconut Grove, patio screen rooms have driven our business," Noe said. "We also have seen a significant increase in repairs to older screen enclosures and screen rooms."
Noe said homeowners who want to improve the versatility of patios often choose to enclose them with screen and an insulated roof.
"The screened patio enclosure adds near year-round use, and it does it affordably," Noe said. "Winters are warm enough that patio use with any cover extends virtually to 12 months."
Patio screens add extra value if they are engineered for conversion later to sunrooms when the homeowner's needs call for it and the family budget allows, Noe said. "Our designers understand code requirements and what it takes to do the changeover economically, so we can engineer convertibility into the screen room for homeowners who want it," Noe said.
Venetian routinely builds to exceed state and local building codes, Noe said, even in high-wind areas such as along Biscayne Bay, lakes, ponds, inlets, canals and parks.
Venetian's free estimates are written and detailed. Its no-cost in-home consultation includes a curbside visit by the company's mobile showroom. "A homeowner only has to travel from the living room to the curb to see our showroom," Noe said, "because we bring the showroom with us."
For more information, call 866-596-2427.