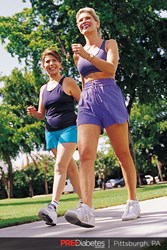 (PRWEB) October 23, 2013
The PreDiabetes Center of Pittsburgh is proud to announce its participation in the Step Out: Walk to Stop Diabetes, American Diabetes Associations' signature fundraising walk.
The 2.8-mile walk will take place October 27 at Pittsburgh's North Shore. Check-in will be at 8 a.m. followed by opening ceremonies at 9:30 a.m. and the walk at 10 a.m.
The nationwide event has already raised more than $176 million toward the $391 million national goal. 126 teams and 834 walkers have signed up for the Sunday walk in Pittsburgh.
Step Out: Walk to Stop Diabetes has been held for more than 20 years nationwide and raised more than $175 billion to fight diabetes. In 2012 alone, the walk raised $24 million with 120 walks across the United States.
The walk is comprised from hundreds of participants under various designations.
Walk participants who are living with type 1, type 2 or gestational diabetes are called "Red Striders" and are given a hat to wear at the event to remind walkers the true meaning of the event. Walkers who raise $1,000 or more are "Champions to Stop Diabetes" and receive a medal and perks leading up to the event. Teams ranging from two people to large corporate groups or organizations also participate largely in the event.
Representatives from The PreDiabetes Center of Pittsburgh will be at the walk conducting risk surveys for anyone who is not sure if they are at risk for prediabetes or diabetes.
Blood screenings will not be available at the event, but staff from The PreDiabetes Center can set appointments for a free advanced blood screening at the Pittsburgh clinic. Additionally, anyone who signs up for an appointment will automatically be entered into a drawing to win a two-month supply of nutrition bars.
PreDiabetes Centers is a privately owned company based in Austin, Texas, dedicated to the prevention and treatment of diabetes. The company offers a 12-month personalized program that treats prediabetes and its associated conditions, and uses advanced biomarker testing to monitor specific processes in the body associated with prediabetic conditions.