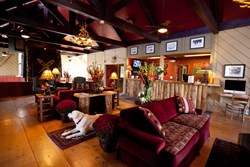 "We wanted to create a place for the community to gather as well as for out of town guests to call their home in the mountains," says resort owner Jim Demetriades.
Mammoth Lakes, CA (PRWEB) October 23, 2013
Call it "snow camp." A new family ski package from the Sierra Nevada Resort in Mammoth Lakes, Calif., will keep kids – and parents – happy, on and off Mammoth's top-rated slopes this winter. In addition to its convenient on-site lift ticket sales and ski equipment rentals, the recently renovated Sierra Nevada Resort has added kids' programming like the Cub Club with stories and hot chocolate in front of the cozy lobby fireplace, Teddy Bear giveaways, snow golf, snowman building contests, and family game night in the inviting log cabin-style lobby. And parents will appreciate the complimentary shuttle to Mammoth Mountain skiing, on-site laundry, three family-friendly restaurants, the new Cub Hollow where kids can play and create – and the incredible wine selections throughout the resort.
Located in the heart of Mammoth Lakes, Calif., the family-owned Sierra Nevada Resort, announced its 2013/14 Ski Mammoth Family package ranging from 3- to 7-night accommodations with daily lift tickets for all ages, ski shuttle, and an Early Bird Breakfast guaranteed to get everyone to the slopes on time. Packages start from $199 per adult per night and are available in all room types all season long, including the freshly remodeled resort's one-, two- and three-bedroom family-friendly, fully-equipped chalets. Ski and board storage, concierge services, and complimentary membership to Sierra Nevada Resort's new children's Cub Club make the Snow Camp Ski Package great for everyone.
Owners Jim and Nancy Demetriades understand what families want – they often stay at the Sierra Nevada Resort with their five children, friends and family. "We wanted to create a place for the community to gather as well as for out of town guests to call their home in the mountains," says Jim. The hotel sign, located on Old Mammoth Road – and a favorite spot for photo opportunities with its Mama Bear and five baby bears – was created to represent the Demetriades children.
Nearby ski area legend Mammoth Mountain received the #5 position on "Outside" magazine's most recent "Top North American Resorts" list, which described it as "the cool kid on the ski-resort scene." But not too cool for school: the Mammoth ski slopes are great for families, boasting exceptional ski schools, day camp for the kids, some of the best and most accessible skiing in the region including the new "Unbound Playground" pint-size terrain – plus great kid prices.
Company Information: Just a short drive from Mammoth Mountain – and walking distance to Mammoth Lakes' restaurants and shops – the rustic-luxe Sierra Nevada Resort offers lodging choices from deluxe rooms and fireplace suites to multi-bedroom chalets perfect for families or groups. Amenities include flat screen TVs, free WiFi, cable, coffee makers, down-alternative comforters and triple-sheeted beds in all rooms. Three distinctive restaurants are located on the resort's six-acre property, including The Red Lantern's Asian fusion; Rafters Restaurant and Lounge; and Jimmy's Taverna, specializing in wood-fired seafood and traditional Greek cuisine. Non-stop winter flights are available to Mammoth Yosemite Airport – just 10 minutes from town – from L.A., San Diego, Orange County and San Francisco. For additional information visit http://www.thesierranevadaresort.com.
Media Contacts: Darla Worden, WordenGroup PR, darla(at)wordenpr(dot)com, 307.734.5335; and Brent Truax or Rhonda Duggan, Sierra Nevada Resort, rjd(at)thesierranevadaresort(dot)com, 760-934-2515.