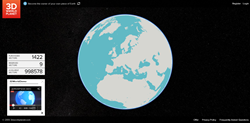 This is a unique opportunity to stake a claim anywhere in the world. Each sector becomes a person's private address, giving them a single electronic location to send to family and friends via e-card. You can create your own Earth!
New York, NY (PRWEB) October 24, 2013
3D World Planet has reinvented the Earth, this time without countries or borders.
There are only 1,000,000 sectors that are available for sale at $1.00 USD each.
Users can buy as many sectors as they would like and place their own photo, contact information and social media information on their personal sector. Twenty-five sectors can make a village, 100 is a city and 1,000 sectors can create a country. The countries and cities are visible in a view from space of the virtual Earth. The website is http://www.3dworldplanet.com.
Once a person has purchased a sector or a thousand, they can place their photo there, like planting a flag. The bigger the area purchased the larger the photo can be. They are also able to post all of their contact information and use this virtual address as their permanent residence. It can be provided to family and friends as a visiting card.
The virtual planet uses the same coordinates as the real world. In fact, users can look up their current address on Google and use those same coordinates to purchase that sector on the 3D World Planet. Once a user has purchased a sector they can reserve sectors for family and friends as well. This way sector-owners can surround themselves with friends, family or fans.
3D World Planet is a virtual Earth designed to give users a permanent address on the Internet. With a photo and tons of contact information, it becomes people's first place to look when seeking someone. They can even send a visiting card to family and friends. This innovative concept has never been done before. It was designed to resolve issues of world of constantly changing addresses and contact information.
Loved ones need never lose touch, because they can always go to http://www.3dworldplanet.com to find a sector owner's information.