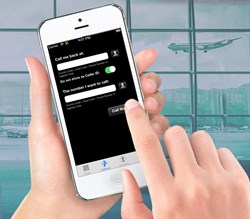 OneSuite Callback can save up to 96% on wireless international roaming rates or international long distance rates offered by local carriers.
Los Angeles, CA (PRWEB) October 24, 2013
OneSuite today announced the launch of its global Callback feature, available in its web account, OneSuite VoIP App for iPhone, iPad, and Android. OneSuite.com, the smart alternative communication service can now outsmart spotty Wi-Fi signals for international VoIP callers on the road, while saving up to 96% on wireless international roaming rates or international long distance rates offered by local carriers.
The user will enter or select two phone numbers from the phone contacts, "Call me back at" and "The number I want to call", then click "Call Now" to submit the request over Wi-Fi. Within a minute, OneSuite will call user back, on the entered landline or cell phone, and connect user with another party. The calls are terminated via PSTN instead of VoIP. So regardless if the caller is in a country with weak Wi-Fi network or spotty signal area, the call quality is guaranteed to be as good as a landline or a wireless call.
"Callback is nothing new! It's the retro concept of contacting an operator to connect calls; but only now it's done over the web, or smartphone apps, with just a few clicks!" said Alice Ching, OneSuite Marketing Vice President. "Although the caller will be charged two calls, but with OneSuite's super low rates, the combined rate is still much much cheaper than the international rates from some of the local carriers overseas!"
For example, when user is calling the US, Canada, UK, or India using China's local wireless or landline; it may cost from USD$0.16 to $1.30 per minute, but with OneSuite Callback, calling US or Canada from China is only $0.043 per minute, calling UK from China is only $0.037 per minute, calling India from China is only $0.042 per minute. The rates can be up to 96% lower than China's local carriers.
OneSuite Callback is an add-on to OneSuite's existing hybrid platform, allowing users to switch between PSTN calls, VoIP calls, and web-triggered callbacks. This OneSuite trilogy offers international travelers, expats, and even local users outside of North America the utmost convenience in making cheap international calls, no matter where they are, what kind of device they use, or Wi-Fi signal strength of their locations. OneSuite Callback will work perfectly in countries where Skype is blocked, such as Algeria, Bahrain, Belize, Brazil, China, Colombia, Cuba, Egypt, Iran, Kuwait, Mexico, Morocco, Oman, Panama, Qatar, Russia, Saudi Arabia, Syria, Thailand, Tunisia, Turkey, UAE (Dubai and Abu Dhabi), Ukraine, Vietnam, and Yemen.
Founded in 1999, OneSuite.com is a Los Angeles-based hybrid prepaid long distance service provider that offers consumers with incredibly low international rates while allowing users to choose calling methods between traditional PSTN from landline or cell phone, and VoIP from the internet or Wi-Fi. OneSuite subscribers can also enjoy premium services such as internet fax, international call forwarding, and VoIP, all under one single account. OneSuite pride itself as the smart alternative in communications. Please visit http://www.onesuite.com for more details.