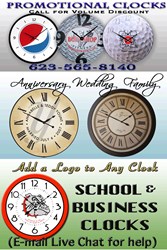 Technology allows even the smallest business to compete on the global stage.
Phoenix, AZ (PRWEB) November 08, 2013
The Big Clock Store is catering to the needs of modern consumers with its now customizable products. As a small but emerging company, The Big Clock Store is earning success by selling customized clocks, as personalized products grow in popularity. Consumers are communicating a strong desire to express themselves through their purchases and small cottage industries are well-equipped to assist them in doing so.
Today's modern era is often associated with big business: huge corporations powered by cheap foreign labor. But as the twenty-first century progresses, advances in technology are bringing business back home.
The term "Cottage Industry" originates from 16th century England when families had to work from home to earn a living. The terms freelancer, independent contractor or consultant and self-employed all fit within the concept of a Cottage Industry. This phenomena is now making a comeback thanks to the accessibility of the internet.
The internet is revolutionizing the landscape for small businesses. Websites like Etsy, Zazzle and Amazon give private sellers a worldwide platform. Small businesses no longer rely on local revenue since they can make profit from across the globe online. Cottage industries also use the internet to find partners and suppliers who offer the best prices, regardless of geographic proximity.
Consumers are expressing a common desire to express themselves, and to be seen as unique. This comes partly from the use of social media as a platform to constantly express oneself. Today's generation has a need for constant expression and a desire to stand out; whether through the form of online posting, or food and drink to apparel.
Businesses are embracing this concept. Burger King's slogan "Have it Your Way," or the popular new Coke Freestyle Vending machine offering hundreds of personalized drink options are only a couple examples. Websites like Pinterest teach their users not to settle for anything, but to find the option that expresses their unique tastes. Countless companies (Nike, Mac, Café Press, Converse, and American Eagle to name a few) are giving customers the option to "build their own" products online.
A large number of businesses are trying to implement customization into their products, but it's more difficult and more expensive for large companies to build custom products than it is for smaller companies. The only business in the world to offer oversized interior wall clocks online, The Big Clock Store is one of countless examples of this.
Noelle Ray, owner and founder of the business, builds each and every clock to order. Of her hundreds of clock designs, nearly all of them are customizable. Customers choose the style and size of their clock, and can chose to include names, wedding or anniversary dates, company logos or personal pictures. If the customer isn't sure about the design they want, they can request that the store create a mock-up for approval.
This is a level of self-expression that big business are having difficulty providing, but that cottage industry businesses are able to offer at little to no cost. In the age of technology, it is inevitable that business will continue to return home.