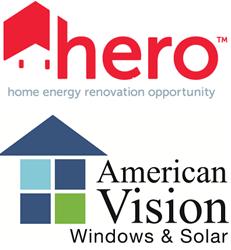 Homeowners who make the switch to solar see a minimum 50% reduction in their energy bills on average.
Riverside, CA (PRWEB) October 23, 2013
Homeowners in Riverside and San Bernardino Counties are finally going green with the new HERO Program from American Vision Windows and Solar and HERO Financing. Families with 10% or more equity in their homes may qualify for these money saving upgrades that help the environment as well as their wallets. Best of all, the HERO Program is accessible to everyone regardless of credit history; applicants don't have to submit to credit checks, have a credit score, or pay a down payment to participate. The award-winning financing solution earned government approval, so homeowners feel confident knowing that they're working with certified solar contractors they can trust. Riverside and San Bernardino County residents may take advantage of this opportunity immediately. Residents of the San Gabriel Valley will also be able participate in the HERO Program in the near future, including those in Diamond Bar, Pomona, Rosemead, and South Pasadena. Eventually the program will expand to include the entire state of California and the rest of the US.
"Homeowners who make the switch to solar see a minimum 50% reduction in their energy bills on average," says American Vision Windows and Solar Owner Bill Herren. "Those savings make a big difference in the lives of hard working families. That's our ultimate goal with the HERO Program, to bring affordable green technology and energy independence to all Americans."
The solar financing program offers fixed interest rates for a variety of renewable energy systems and products. Residents purchase their new equipment with equity they've built up over the years, and pay for it with property taxes. Payments are calculated through property tax assessments over 5 to 20 years, and participants may borrow as much as 10% of the home's value. Interest rates vary according to financing terms. The exact figures are set when official documents are issued. The maximum financing amount would be 15% of the market value, which will be determined by an independent 3rd party vendor. Naturally, these enhancements automatically increase property values. Should the owner decide to sell the house, the new owners usually assume responsibility for any remaining balance.
American Vision Windows and Solar co-founder Kathleen Herren assures homeowners on the fence that they'll receive plenty of guidance from her knowledgeable staff: "We know it's tough to figure out what's right for you and your family. We don't expect you to make these important choices on your own. We're here to help you with free advice and support every step of the way."
Homeowners may save even more on their energy costs with tax incentives & rebates on eligible products. For example, PV systems get Federal tax credits of up to 30% until December 31st, 2016. Additional rebates from power providers such as Southern California Edison might be applicable in certain situations. Solar PV and thermal water heaters in particular receive rebates from the California Solar Initiative (CSI). For more information about energy efficient upgrades and other home improvement promotions, visit the AVWs website.
About American Vision Windows and Solar
In 1999, American Vision Windows and Solar embarked on a mission to revolutionize the home improvement industry. AVW's unmatched commitment to excellent service and superior client care earned the company thousands of repeat clients as well as the highest referral rate in the nation.AVW serves Los Angeles and Ventura Counties through its Simi Valley headquarters. Branch offices are located in Orange County, San Jose, and Mesa, Arizona.