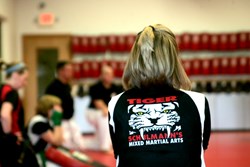 Tiger Schulmann's kickboxing classes train students in authentic techniques. Aerobic kickboxing only offers simulated moves which do not offer all the benefits and leave students more prone to injury.
Middletown, NJ (PRWEB) October 24, 2013
Training in kickboxing is one of the top fitness trends sweeping the nation, known for its aerobic benefits and intense fat-burning benefits. Several health and fitness publications to their charts with kickboxing classes, proven to burn over 800 calories per hour. Kickboxing as a full-body workout dissolves fat, tones muscle and provides self defense as an added benefit. It also increases strength, improves flexibility and enhances endurance.
The Middletown, New Jersey Tiger Schulmann's location, Tiger provides, "authentic" kickboxing. Dozens of professional competitors train at Tiger Schulmann's, several have obtained championship titles and teach at every level, from beginner to pro. A number of these athletes have even competed in the UFC, demonstrating the added effectiveness of Tiger Schulmann's style.
Alon Feder, Tiger Schulmann's Director of Marketing, states, "With most aerobic kickboxing classes, you do not learn authentic techniques. You learn moves which approximate true kickboxing. You achieve the aerobic benefits, but not all of the benefits available through training in an authentic style. The real techniques are what we train every level of student from absolute beginner to professional competitor. The real moves are more effective, provide better fitness, and also prevent students from sustaining injuries which can occur when using improper technique."
The Middletown, NJ web-only special includes a free kickboxing class, complimentary pair of training gloves and a $50 certificate of savings. The offer can be found on: http://www.middletownmixedmartialarts.com/kickboxing-classes/.