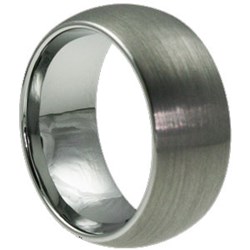 (PRWEB) October 23, 2013
ForeverMetals.com, tungsten wedding band manufacturer and retailer, has added a new ring to the growing collection of finer quality tungsten carbide rings and wedding bands. The Perseus features a 10mm wide dome shape with a satin brushed finish for a more subdued look. The 10mm Perseus was also manufactured with a comfort fit design for all day continuous wear for both men and women. The 10mm model will be included with the existing Perseus rings in a 5mm, 7mm and 8mm width. The new tungsten style will retail for $99 along with similar ring styles.
Forever Metals has been in business since 2005 manufacturing both classic and unique styles that fit the needs of their customers. For the customers that do not see exactly what they are looking for there is a customization option that is both quick and extremely affordable for a one of a kind ring style. The popular collections from the company include the Irish collection featuring many unique Claddagh styles along with knot work styles, cross rings and Celtic heritage rings. The company also offers unique inlays such as redwood and black ebony wood inlay, genuine abalone and black shell ring, black and white carbon fiber rings and also many precious metal inlays. For the couples seeking something more traditional Forever Metals offers more than 100 styles that are both classic and simple.
http://www.ForeverMetals.com encourages couples to shop with confidence when trying out a tungsten carbide wedding ring. The metal is extremely hard and durable, coming in at just below a diamond on the Moh's hardness scale. The price point is also affordable for couples trying to stay on budget during a touch economy. Forever Metals also offers a lifetime warranty with each ring purchase protecting the investment for the many happy years to come.
About Forever Metals, LLC:
Gary Camphausen founded Forever Metals in 2005 when he was unable to find an affordable yet unique wedding band for his own wedding day. With years in the Engineering industry he decided to create a line of rings that was both economically friendly and unique in comparison to what was found in jewelry stores.