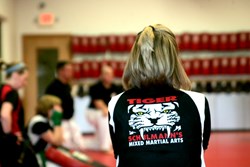 I train there and I love it and I recommend it to my friends and family! It changed my life and I'm in the greatest shape I've ever been! Come check it out and see for yourself. They also give a free introductory class to try it out!
New York, NY (PRWEB) October 24, 2013
Established in 1984, Tiger Schulmann's Mixed Martial Arts trains thousands of men, women and children weekly. Over 200,000 people have trained at a Tiger Schulmann's location since the doors first opened 30 years ago.
Today, Tiger Schulmann's announces its new flagship school in Gramercy area of New York City, conveniently located near several subway lines and bus stops in a historic building.
The state-of-the-art facility is owned and operated by Shihan Ron Schulmann, the brother of Tiger Schulmann. Shihan Schulmann is the Chief Organizational Instructor who develops the highly effective curriculum for all Tiger Schulmann's locations. The techniques that all students in the organization will eventually be taught, are taught at the flagship location first. The Schulmanns have dedicated their lives to a scientific study of the martial arts and implementing only the most effective and modern techniques used by professionals at the highest competitive levels. They systematically teach their style to martial artists of every level, beginning from the complete novice all the way to the UFC level. Beginners learn the same techniques the professionals use.
Every head instructor is a highly accomplished, professional martial artist with an international reputation. Most people come in as complete beginners and never intend on competing. Those people will reap the benefits of getting in peak physical condition and learn the same self defense techniques the professional UFC fighters use without ever having to enter competition. The professional instructors keep it safe and motivating.
"Learning directly under one of the world's premiere innovators of modern martial arts is an extremely rare opportunity," says Alon Feder, Director of Marketing for the organization. "Imagine you want to sign up for a beginner's cardio kickboxing class, and find yourself training in an extremely advanced form of martial arts from an instructor who teaches at the UFC level of competition. You're not only going to get one of the best workouts you've ever experienced, you're going to learn self-defense at an incredibly advanced level. Not only that," adds Feder, "the other head instructors at the new facility are professional mixed martial artists and kickboxers who are recognized internationally and compete at the highest levels of MMA and kickboxing."
Student skill levels range from beginner through intermediate and advanced to professional competition. Regardless of one's abilities, achieving the perfect level of fitness, coupled with the most effective self-defense techniques, is the ultimate goal.
For adults, emphasis is on achieving peak fitness using a systematic regimen of techniques which maximize aerobic capacity, strength, flexibility, endurance, and self-defense skills. The instructors key into the trainees' goals and keep them motivated in a dedicated pursuit of obtaining optimal physical and mental health coupled with increased vitality.
For children, the specialized program offers a safe, fun and exciting environment. Kids learn self-discipline, the ability to set and achieve goals, and a powerful sense of accomplishment. Non-aggressive methods of handling bullying situations are also of substantial importance. Tiger Schulmann's MMA instills high moral values, self-defense skills, and a non-quitting spirit which will last a lifetime.
Numerous health benefits have resulted from training at Tiger Schulmann's including weight loss, overcoming diseases such as diabetes, heart problems, orthopedic problems, combating issues stemming from ADHD, Asperger's, etc. Some of the results students have achieved have been nothing short of miraculous.
The contact information and address for the new location are:
34 East 23rd Street
New York, NY 10010
(2nd and 3rd floors)
newyorknymma.com
(646) 346-7673